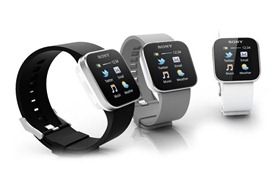 We're thrilled to have been invited and sponsored by Intel to attend IDF 2012 this year. Intel Developers Forum is the place to get a feel for what's going to happen in the next 12-18 months and to get all the questions answered by the experts responsible. Naturally we've been looking through the agenda. There are 17 technical sessions directly related to Ultrabooks and an additional 5 that will reveal information about Haswell, the next generation platform that you can expect to see in Ultrabooks in 2013.
One presentation jumped out at us though. Ultrabook™ Innovations – Intel Wireless Charging and Smart Watch Digital Companion.
Smart Watches aren't new (Sony's SmartWatch pictured above) and companion devices aren't new. Remember Windows Sideshow?
By working to integrate two devices rather than create a generic Bluetooth-connected watch though, Intel might have an advantage and it's something we're really excited about. With Smart Connect or AOAC (Always On Always Connected) a smart watch makes complete sense.
Naturally Intel haven't given much information on the topic and we suspect that this information might even get removed after we post this so here's what they've said in their technical session notes.
Topics in this session include:
Intel Wireless Charging:
• Wireless technologies and application to PC usages
• Intel Wireless Charging architecture and PC platform touch points
• PC and device integration guidelines, performance expectations and roadmap
Intel Smart Watch:
• Smart Watch usage models
• Introduction to the Reference Design Platform
• Application development
Demonstrations of both capabilities will be shown.
Obviously there's a wireless charging component that might be linked here. We've seen that demonstrated before and with a watch needing far less power than a smartphone, it might be a better prospect for wireless charging. Applications are mentioned in the notes too.
Naturally we've looked for more information on the product but can't find any at the moment. Let us know in the comments if you spot anything.
Speculation at this stage is likely to be around BT 4 low power (we've seen a Casio  Bluetooth 4 watch using this technology that lasts many months on one charge)  and how a 3G Ultrabook would act as the gateway for a watch that polls for emails and other applications notifications, most likely linked into the Metro notification system.