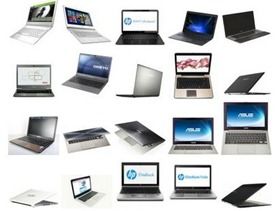 What a depressing, and somewhat embarrassing set of news items we've seen for Ultrabooks on the Web this week.
You may have noticed that there hasn't been much interesting Ultrabook news this week and as we hit summer holidays, silly season starts. Stick with Ultrabooknews for a more sensible take on whats' going on because journalists, no, juniors employed to cover summer holidays are fed with news items and hints and it usually ends up looking cheap.
"Hey, IDG published a report on the PC market. There's a few mentions of Ultrabooks in it and it looks bad. Send some provocative copy to the editor because page views are down." Junior writer ends up with pieces that get edited to this, this and this.
Fact 1 – There are no Ultrabook sales numbers available, only best guesses.
Fact 2 – Ultrabook sales started in June – the last month in Q2.
Where does Fact 2 come from? Us. We've got more too…
We sell Ultrabooks through our product database. We link readers to the appropriate Amazon sales pages in the USA, UK and Germany and we get a few dollars when something is bought. It's part of the reason we're able to remain independent. We've been running Ultrabook affiliate links for about 8 months now but sales have been near-zero, until June that is when all of a sudden the new ASUS Zenbook range started selling well.. The new range of Ultrabooks, the 2nd generation introduced in June, have taken-off and that means that Q2 2012 was day zero for Ultrabooks in terms of sales numbers. You won't see that in any quarterly report.
Here are some more facts to consider….
9 out of the Top 10 Ultrabooks viewed on our database this week were 2nd generation models launched in the last 6-8 weeks. From our business perspective we could disregard the 1st gen models now.  (We won't because there will be some great bargains around and we'll let you know about them.)
We've seen around  100% increase in site traffic over the last 2 months – and that's not all because of our content. There's a rising tide out there and it's clear to see from our analytics.
Search trends are on the up and importantly, the tail of search terms has grown and evolved. Where people were searching for 'Ultrabook' they are now searching for specific model names and usage scenarios.
We added 16 Ultrabooks as a result of Computex in June and that's on top of the leaked 2nd-Generation devices. There are now 62 different Ultrabooks in our database and about 65% are 2nd-generation devices officially launched in the last few months.
Ultrabooks have reached the 2nd-tier of manufacturing. We know about 12 Ultrabooks that will only get local distribution. India, Japan, Brazil, UK, USA, Germany are all countries that are being targeted with re-badged OEM devices.
Prices nose-dived in June. Forget $1000 entry-level prices. Ultrabooks are now chasing $599. Launch prices of $699 in June mean back-to-school offers of $650. The lowest price we see today in the USA is $683. 2nd-gen Ultrabooks are at the $750 mark. Price is trending down very quickly.
AMD-based ultrathins have not appeared. The competition has failed to materialize, possibly because 2nd-gen Ultrabooks are hitting lower price points. We're dissapointed about this because competition would benefit everyone. We're expecting 3-5 models this year but that's not enough to generate real competition.
We're not even into the 2012 sales months. August is the back-to-school month and Ultrabooks will be competing at the high-end. After that Q4 is going to be important and likely impressive. Windows 8, new holiday-season models, touch, sensors and some real pricing competition. Starting from end of September we're likely to see the second wave of 2012 sales. The US, UK, Germany, Canada, Australia and other major 'Christmas Q4' countries will likely pull in the major part of the years sales numbers in just three months.
We're in the Ultrabook business and we've done our research. We're confident that the market is going to be strong.
Mainstream media will twist and turn but we'll be here to give you real information as the market grows. Stick with us and, if you like us, give us a leg-up by clicking on the social media links dotted about the site.