Many have said it before and many are likely to say it again during 2012. PC's are boring.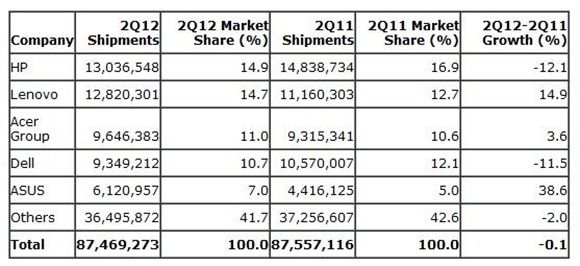 Source: Gartner
Buying a new pad of paper for school was never the most exciting of purchases, I recall, but it was something that needed to be done. PC's have evolved in that direction too. You needed one to write emails and book hotels, print digital images and write letters and reports. Then, the tablet came along and dumped a whole lot of interesting in the mix. Touch, games, sensors and lock-in features like always-on and sharing. The price for these fun little gadgets was pretty good too so they were easy to justify. It's no wonder that PC sales are flat this 2Q 2012. In fact, it's a surprise that overall sales haven't dropped further.
Gartner have just release a 2Q12 PC sales report and summary that you might want to take a closer look at if you're trading in the PC market. There are hints that the Ultrabook effect is taking hold and that's the second indicator we've had in the last 2 weeks that the strategy is working.
PC and silicon manufacturers have known about the 'boring' PC for years and at last we're seeing change coming through. These changes take years but many are expecting  2012 to pick up from now. We're predicting a very positive upturn in Q3 and Q4 based largely on the new wave of affordable and interesting Ultrabooks, WIndows 8 and further marketing pushes by Intel and their partners.