If you haven't read our report on using an Ultrabook as a desktop, take a look now. Ultrabooks cover all the bases when it comes to daily computing and there's some good options out there for making the desktop life even better. How about 4 screens for example? The Toshiba Dynadock U3.0 that we've been testing for the last few weeks gives you that and a whole lot more.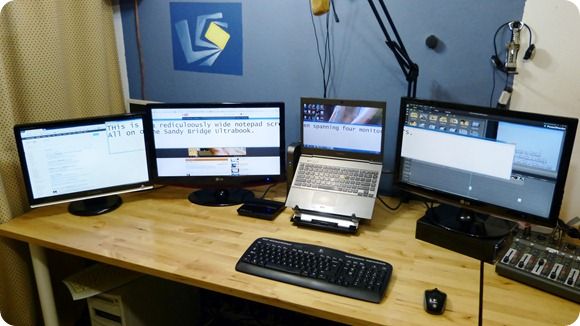 The Toshiba Dynadock U3.0 is the latest in a range of Dynadock products Toshiba have sold for the last three or four years. They combine a number of USB-based adaptors in a standalone unit that enhances the desktop experience and reduces the need to plug and unplug cables which saves time and wear.
One of the 'tricks' of the Dynadock is to provide 2 display ports that appear as true display adaptors on the Ultrabook. The display adaptors use a transfer technology from DisplayLink which compresses the display data for quick and low-latency transmission over a USB cable to the DisplayLink video hardware in the Dynadock. While these 'virtual' display adaptors aren't useful as gaming displays or high-end video displays, they work perfectly for work scenarios. As you can see from the image above, the 2011 model Toshiba Z830 is able to drive the internal display, an HDMI or VGA display from the onboard HD3000 graphics module and two displays (HDMI and DVI) via the Dynadock; a total of fours displays.
Also built into the Dynadock is a Gigabit LAN port and a 5.1 sound module with front-facing and rear facing 3.5mm ports. There's a built-in USB hub offering 4 USB3 and2 USB connectors. Power and USB3.0 client port are on the rear.
Supplied with the unit is a power supply (that matches the Toshiba Z830/Z930 adaptor – useful if you've got one of these Ultrabooks) a USB3.0 cable and a DVI to VGA adaptor.
The unit is plastic, has a nice finish and style (matches the Toshiba Z830) and has a stable foot plate.
Setting up was easy although not all the drivers loaded automatically. The dock appears to have a small USB drive module and auto-run software will install DisplayLink drivers. These are unlikely to be the latest versions but are good enough to get everything up and running.
Video – How to Set-Up and Use the Toshiba Dynadock U3.0
I've been using the set-up for a few weeks now and have to say that I'm impressed. The quality of the 'virtual' screen adaptors exceeds my expectations. Knowing how much data it takes to run an HD screen I wasn't expecting video to work at all but for full-screen 720p YouTube videos, I didn't have any problems. I saw frame drops on full-HD high-bitrate movies and at a low-locked CPU clock but given that you can run one or two screens from the built-in Ultrabook display adaptor anyway, is that really a problem? It wasn't for me.
One thing you won't be doing on this is multi-screen gaming. Ultrabooks, even the new Ultrabooks with HD4000 graphics  are already limited to one-screen casual gaming so adding more screens with limited bandwidth and a CPU overhead is a no-no.
As for that CPU overhead, yes, it's there and it could be significant for some of you. I played a 720p YouTube video in fullscreen and watched the processes carefully. At 100% CPU clockrate (1.7Ghz for this test) the DisplayLink processes took up to 10% with an average of around 6%. In 800Mhz mode the peak was 20% but as we're talking about a desktop scenario here, you're not going to be running the CPU in 'balanced' mode most of the time. The CPU load itself isn't going to reduce you working experience but what it might do is kick the fan in earlier than normal.

The processes DisplayLinkManager.exe and dwm.exe are related to the virtual screen function.
Stability was good although there was one case where the Ultrabook needed to be rebooted to see the additional screen. I suspect the DisplayLink software had crashed. The use must also be aware that the Dynadock introduces a lot more driver software onto the laptop than is otherwise required. More software equals less stability and in my experience, USB hardware also ads an element of instability. In two weeks of use though I personally don't see this as a major issue. The advantages outweigh the risk by far.
Problems
Apart from the issue mentioned above, there was an issue with Cyberlink PowerDirector. The software crashed on every attempt to start it. We fixed this by manually updating the DisplayLink drivers from the DisplayLink website. We're currently using V7.0 Beta.
A problem with a Logitech Wireless mouse was not resolvable. After a period of use the mouse response became poor and we had to resort to a cabled mouse. After an update to 7.0Beta software, this problem appears to have gone away although the test period with V7.0 was just a few hours before writing this article.
Other notes
Audio is passed over HDMI and through analogue ports simultaneously
Surround sound not tested
We're testing the USB3.0 version here so beware of lower cost USB2.0 solutions. Not only is the USB bus speed slower but there's a different DisplayLink chip inside which isn't as good as this one. The USB3.0 solution is the way to go.
Also tested – Creative USB sound module, Samsung DVD drive, headset with Skype, various USB sticks and drives.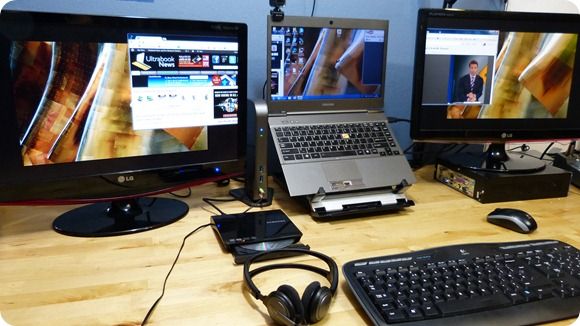 Summary
If you add up the cost of a good quality USB3.0 hub, a 5.1 surround sound USB module, a Gigabit Ethernet module and a DIsplayLink adaptor you come to more than the cost of a Dynadock U3 so for those that are going to use all of the features (we are) there's no question of it being value for money. It looks good, is silent and does a perfect job of simplifying the use of an Ultrabook as a desktop.  For businesses support a bring-your-own laptop solution, the Dynadock U3 is going to cash-in very quickly.
This is not for gamers or running 2×2 screen matrixes as a video display but for the average laptop user it does a great job.
See our article on Ultrabook Desktop configurations here and find out more about setting up a home and office environment.
Recommended!
[embedsite same_height_as="content" src=http://ultrabooknews.com/pullin/productdetails-pullin-generic.php?id=937]