We took a close look at the Toshiba U840W a few weeks ago. It's the very wide screen Ultrabook aimed at media scenarios that could have some nice productive applications too. We think it's an Ultrabook that everyone needs to have a serious look at and that's exactly what Notebookcheck have done. We've got some pricing for you too so read on…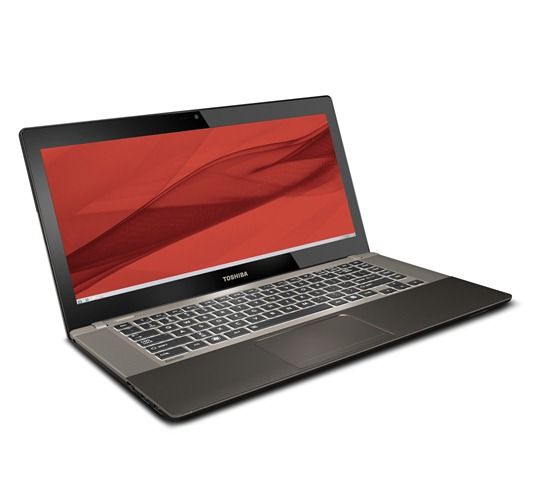 First up we need to highlight a few specs. It does have a glossy screen but remember that you can always ad a matt screen cover to a glossy screen and not the other way round. There's no discreet graphics and it weighs a 1.57KG which, given the compact dimensions, makes it seem heavy compared to other Ultrabooks. It's a high quality device though and we really liked the combination of Aluminium and rubber finishing, the keyboard backlight and the wide screen. For those wanting to move from one to two windows side-by-side this is a solution that, although not full HD, is going to be usable.
Notebookcheck have found the U840W, the European version, to be quiet, cool and efficient with on-par performance. Their review of a pre-production sample is here.
A retail sample review might be useful for those wanting more detailed information and there's also the price to consider. We've got a UK-based price for you and it's for the Toshiba Satellite U840W-107 – the hybrid 500/32GB Core i5 version with 6GB RAM – just under 900 pounds This UK version is expected to ship on August 13th. We've also seen the same model in Holland for about 1079 Euros. In Germany we see it for about the same Euro price.
The latest Amazon US price is $999. (Update – The price we were looking at has now gone.)
It's not looking cheap, especially for a hybrid HDD, but keep a check on the information below which is pulled daily from our database. We expect some $50-$100 discounts before end of August 2012.
[embedsite same_height_as="content" src=http://ultrabooknews.com/pullin/productdetails-pullin-generic.php?id=908]