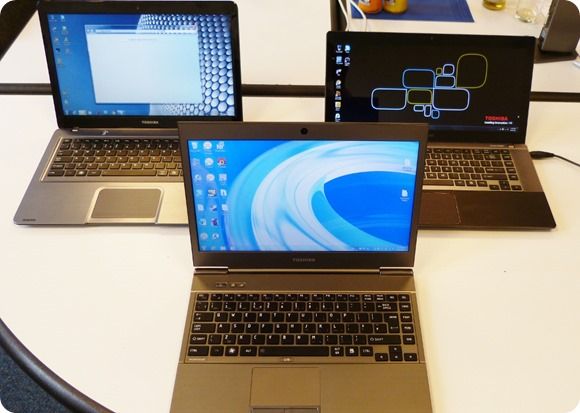 We spent a few hours with Toshiba in Germany yesterday and came away impressed by the commitment that this Japanese company has with the Ultrabook segment. In 2011 we saw the very thin, very light Toshiba Z830 but in mid 2012 there's now three models to choose from. Entry level with the U840, business with the Z930 and the interesting wide-screen U840W which we think is going to find some friends.
In the USA the models numbers are slightly different but the U845, U845W and Z935 correspond closely to what Europe will see.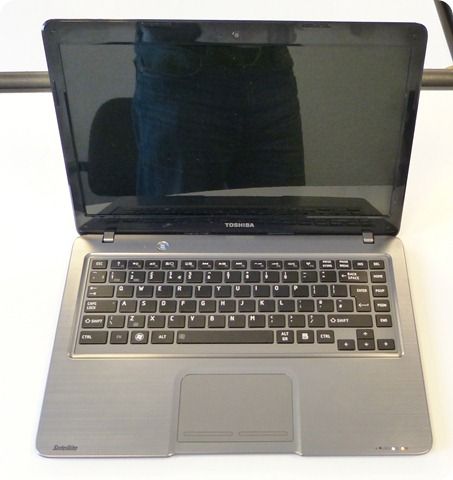 First up there's the Toshiba U840. [Specs, images, links, videos here.] It reminds us a little of the Acer S3 which is an honest low-cost Ultrabook. The U840 has advantages over the S3 in a few areas though. The backlit keyboard (on all the new models) will impress students working into the night.  The SSD-only option will be one to watch on pricing and the port selection is good too. Build quality seems excellent and we like the way Toshiba has switched the function keys to offer the control functions directly available without pressing the FN button. As for pricing we don't have any details at the moment but if the 1.8Ghz Lenovo U410 is up for 799 Euros, this U840, without discreet graphics, will have to be cheaper. 750 Euro seems very likely but we'll find out later in July (Germany availability) The U840 will come with SSD-only and discreet graphics versions that use AMD Radeon HD 7550M. 8GB versions will also ship.  Battery size is 54W.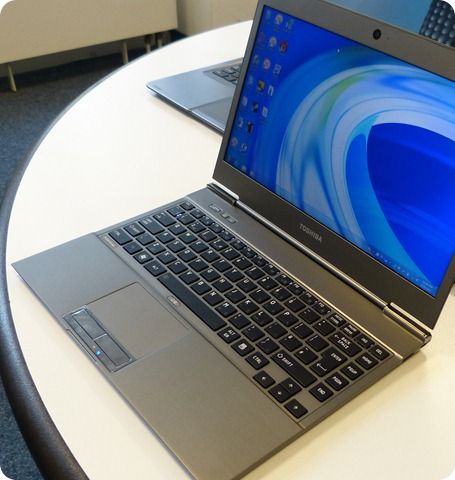 Next up is the Toshiba Z930. [Specs, links, images, videos.] Having used the Z830 for a few months we've been impressed at the size, weight, ports and the battery life. The Z930 is basically a Z830 with Ivy Bridge, a faster SSD (Toshiba THNSNS128GMCP)and a few refinements. For example, Toshiba have worked on the spacebar which has received some criticism for being unresponsive. There's talk about a slightly more rigid screen. There's an increase in the maximum backlight brightness but unfortunately Toshiba confirmed to us there there won't be a higher resolution model. 1366×768 is the max resolution for this thin panel at the moment. It goes against what Toshiba US told us in a conference call before Computex but we tend to believe Toshiba Germany in this case. We've asked Toshiba if the Z930 will support three concurrent displays and they're checking up on that for us.
The Z930 will replace the Z830 (which will not be manufactured any more) so watch out for stock clearances on the Z830. In Europe the base model will come under the Satellite brand. Models with TPM/AMT (part of VPro) will be under the Portege brand. Interestingly, due to TPM/AMT, the boot/resume responsiveness of the Z930 Portege lies just a few seconds outside the limits for an Ultrabook meaning it won't be marketed as a true Ultrabook.
Final specs of the Z930 are already in the sales channels and there are two Z930's being offered in Europe today. Final production run samples have already been distributed and the Z930 is expected to be delivered in a few weeks in Germany.
Toshiba Satellite Z930-103 (PT23LE-003004GR) Core i51.7Ghz, 4GB, 128GB SSD, Windows Home Premium – 999 Euros lowest price.
Toshiba Satellite Z930-119 (PT23LE-00C004GR) as above with 265GB SSD – 1199 Euros lowest price.
As with the previous Z830's expect a wide range of variants with up to 8GB of RAM, Core i7 and UMTS options ranging up to 2000 Euro.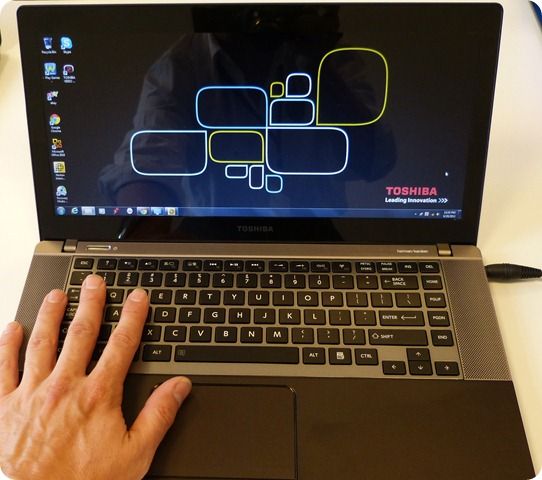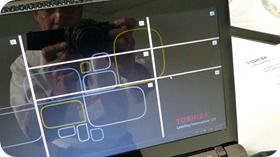 Finally we get to the quirky, but very interesting Toshiba U840W [Specs, info, links, images here.] The model number might lead you to believe it's just a stretched U840 but it isn't. The 14.4" screen has a 1792×768 resolution which we found to be very useable, especially as Toshiba have built-in some screen splitting software. You can snap any window into a pre-defined area. Up to 9 areas are available. Day traders pay attention! The 21:9 'Cinematic' screen is bright and glossy and the Harman Kardon speakers a joy to listen to. It will support up to 10GB of RAM, has 3x USB3.0 ports and will come with hybrid HDD or SSD-only options up to 256GB. It's a compact power-house and does feel a little dense but it weighs only a little more than some 13.3" devices we've seen. 1.57KG. There's a rubberized finish on parts of the casing, a 10/100 (not Gigabit as mentioned in the video) Ethernet port, Intel Wifi/BT/Wi-Di,full size card reader, HDMI port (no VGA) as with all the other models mentioned here, keyboard backlighting.
We love this form factor but naturally wish it was a few hundred grams lighter. The 54W battery is a good size and should see 6-7hr Web-based working possible. Films run in about 11W on the latest Ultrabooks so expect 4-5hrs of film goodness.
Pricing and availability was not given but July is the target. We expect the latter part of July.
Full specifications are in the database and have been checked against official specs. All Toshiba Ultrabooks are listed here.
If you have questions, drop them in the comments below and we'll try and answer them for you. Check out our overview video first though as there's lots more info there.
More photos available in this gallery.