Aiming to get a lead on other touchscreen Ultrabooks, Acer has decided to launch the Acer Aspire S7 before Windows 8. We're not expecting the model to be available in large volumes though as this sounds like a marketing move.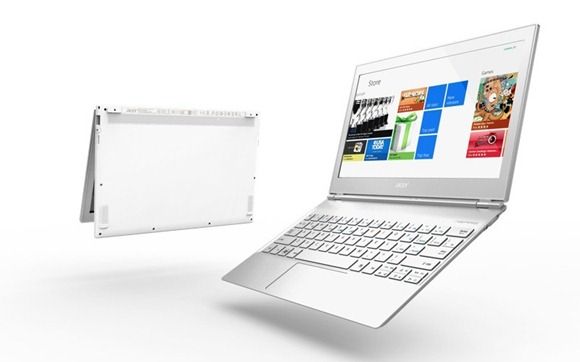 Slashgear have been told by Acer UK that the Aspire S7 will be available to buy at the end of September. Specifications include the touchscreen, Windows 7, a Core i5 CPU and 4GB of RAM and 128GB of SSD storage. The price will be £1149.99 which includes UK taxes. (Pre-tax US dollar equivalent is around $1450.) A Windows 8 version will follow as soon as Windows 8 is launched.
Clearly Acer is looking to get some SEO advantage by launching early but we don't expect many to buy until WIndows 8 is available when the prices could come down a little due to competition. The Windows 8 Touch category could be a hot one and an early launch makes sense in this respect.
Remember that Acer were promising 12hrs for the 13.3" version which is just 12mm thin. With the Ultrabook looking extremely small in terms of volume there's not much scope for a battery that's any bigger than that found in a normal Ultrabook and therefore little scope for real-world battery life that's significantly better than the 5-7hrs we see on other devices. We've seen Windows 8 do great things under idle though so we suspect that's where the 12hr figure is coming from – an idle test.
The price is no surprise to us. Touchscreen Ultrabooks based on new designs are going to be expensive. What you might see are touch/Windows versions of existing Ultrabooks being launched. ASUS and Samsung have already shown prototypes of existing models with touchscreens. $100-$150 is what you should be expecting to pay over a non-touch version.
We're expecting to see plenty of hands-on with the Acer Aspire S7 at IDF and IFA during early September.
Source: Slashgear
[embedsite same_height_as="content" src=http://ultrabooknews.com/pullin/productdetails-pullin-generic.php?id=911]