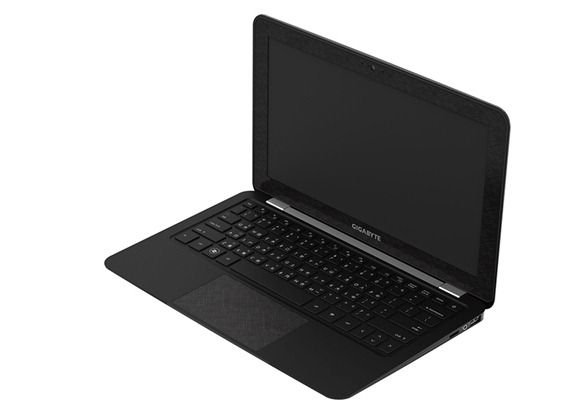 We've just spotted the Gigabyte X11 in retail channels and it's marked up as being available shortly, possibly in 1 week. Pricing is available and full specs and model variants have been listed in Europe.
The X11 was launched as the worlds lightest Ultrabook but that title has now gone to the NEC Lavie leaving the X11 as the 'Iightest on Earth 11.6" Ultrabook' now but at under 1KG, this is still an incredibly lightweight Ultrabook. Built with a carbon-fibre chassis it will be available with a Core i5 and a Core i7 CPU. Pricing is starting at €1157 and €1314 respectively (street prices, Germany, including 19% sales tax.)
The X11 has the slightly disappointing 1366×768 screen and in comparison with the 150gm heavier Toshiba Z930 is more expensive, with less ports.  Battery capacity is said to be 4730mAh which is a 2-cell setup.We're looking at 35Wh, small and probably returning only a 4hr web-working scenario.
We love the style and the attempt to get the weight down. For those looking for the smallest footprint and the lowest weight will have the at the top of their lists but budget limits and pragmatism may rule in fovor of other devices.
See our guide to 11.6" Ultrabooks for more on this category.
Source Geizhals