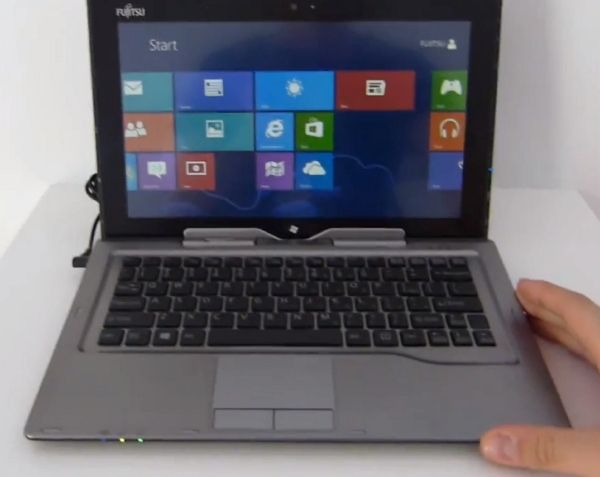 Fujitsu is launching a transformer-style hybrid Ultrabook, the Stylistic Q702. The company has experience making tablets and it shows — the Q702 is probably the most well rounded hybrid we've seen launched thus far with a very good port set for the size, capacitive and active digitizer screen, and even a built-in stylus. Our man Nils is on the show floor at IFA as we speak and has a look around the upcoming Q702.
Fujitsu announced the Stylistic Q702 a few weeks back but at the time wasn't calling it an Ultrabook; now at IFA it seems they're comfortable giving it the title proper.
The tablet itself has an 11.6″ screen at 1366×768 which is capable of sensing capacitive touch but also features an active digitizer for accurate handwriting and note-taking. The tablet part alone weights in at 0.85kg. Fujitsu hasn't specified the weight of the optional keyboard dock, but expect to bring the Q702 up to at least 1.3kg.
The Stylistic Q702 is powered by a Intel's 3rd generation Ivy Bridge processors — Core i3 and i5 options will be available. 4GB of fast 1600MHz RAM is included as well as a 64GB, 128GB, or 256GB SSD for storage.
Fujitsu packed the ports into the Q702 and smartly put many of the important ones on the tablet itself unlike HP's ENVY X2 hybrid. On the Q702 you'll find the following: [on keyboard] – full VGA, 2x USB 2.0, stylus, ethernet/LAN (RJ45), [on tablet/Ultrabook] –  2x USB 2.0, 1x USB 3.0, full HDMI, volume rocker, rotation lock, WiFi switch, 3.5mm in (mic), 3.5mm out (speakers), fingerprint scanner, and full SD. 5x USB and full VGA/HDMI on an 11.6″ hybrid Ultrabook with an active digitizer? Sign me up!
My only regret is seeing that the stylus isn't housed in the tablet, though space is obviously a concern when you have to cram all of the necessary components into the screen. Fujitsu filled the leftover space in the keyboard with an extra battery which will provide more runt time to the tablet; they say with the two batteries together the Q702 will last 9 hours, but we think 6 is a more realistic estimate.
The Q702 also contains a mic-array, front and rear cameras, and optional 3G/4G. This is definitively a hybrid Ultrabook to keep on your list.
No pricing or release date yet announced for the Fujitsu Stylistic Q702 hybrid Ultrabook, but we'll let you know when we see it.