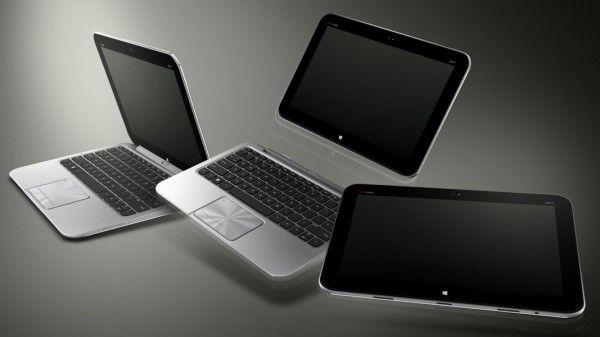 A number of companies are now betting on hybrid computers to be the next big thing with Windows 8. We've seen the Duo 11 from Sony, the Samsung ATIV, Asus TaiChi and Transformer Book — all hybrids — and now HP is announcing the Envy X2 with Windows 8 and touchscreen. The X2 takes on the familiar 'transformer' form-factor which is outwardly a standard laptop form-factor but the screen can be detached and toted around as a tablet. The question remains whether Windows 8 will provide a sufficient touchscreen experience, or if all of these hybrid devices will be used as standard laptops more often than not.
The hinge looks rather interesting; when open it points straight down to prop up the machine. This might be useful for the desk but could be awkward on a lap — I suppose that's what the tablet mode is for though! To disconnect the screen from the keyboard, you slide a small switch on the front of the hinge; upon rejoining the two piece, the hinge has magnets in it which help guide the tablet portion in to place while connecting.
On the Envy X2 you'll find an 11.6 inch IPS touchscreen with a 1366×768 display as well as front and rear cameras (the rear cam is 8MP). NFC is included, but at this point in the life of the technology its useful applications are practically zero. The total unit weigh is 1.3kg which is pretty impressive given the extra heft needed to make a proprietary and sturdy hinge. Ports are pretty weak on the Envy X2: you'll find full HDMI, 2xUSB, 3.5mm headphone/mic combo jack, and full SD. None of these ports are on the tablet itself, so don't expect to be able to plug in any USB peripherals without the keyboard dock. The only buttons you'll find are the tablet are volume, sleep, and the Windows button on the front.
Fortunately the keyboard has it's own battery included which means you'll be able to charge the tablet from the keyboard when it's docked, offering extra run time.
HP mentions that a stylus will be included with the Envy X2 hybrid, but it isn't clear whether or not this is a simple capacitive stylus or if the screen has an active-digitizer component to it which would enable accurate handwriting.
HP has revealed almost nothing about the actual hardware powering this device. All that we know is that it is Intel based and uses an SSD for storage. In the end it could be branded as an Ultrabook, but we'll have to wait and see. Pricing is also a secret at the moment, but the Envy X2 should be launching in time for the holiday season in a few months.