Today HP is announcing a new variant of their premium Ultrabook, the Spectre XT TouchSmart. With the addition of a Thunderbolt port, a larger 15.6″ full HD IPS touchscreen, and Windows 8, HP is bumping the price up from the $999 Spectre XT to $1,399 for the Spectre XT TouchSmart.  The Ultrabooks are nearly identical aside from the additions and change to the price. It would appear as though HP will be selling them concurrently.
Although HP markets the Spectre XT as their premium Ultrabook, many found the relatively low-resolution 1366×768 display out of character. The Spectre XT TouchSmart increases the screen size of the Spectre XT from 13.3″ to 15.6″ and bumps to resolution up to 1920×1080, silencing resolution critics. This is a capacitive IPS touchscreen which will likely have phenomenal viewing angles.
The new Spectre XT TouchSmart Ultrabook is based on Intel's latest third-generation Ivy Bridge processors. It's quite thin at 17.9mm and weighs in at 2.1kg — a bit heavy for an Ultrabook, but this is a 15.6″ screen after all. You'll likely see Core i5 and i7 options, and Engadget reports that SSD or HHD options will be available for storage. The larger footprint makes room for an additional USB 3.0 port over it's smaller sibling, bringing the port count to the following: Thunderbolt, full HDMI, 2x USB 3.0, 1x USB 2.0, Ethernet/LAN (RJ45), full SD, and 3.5mm combo headphone/mic jack.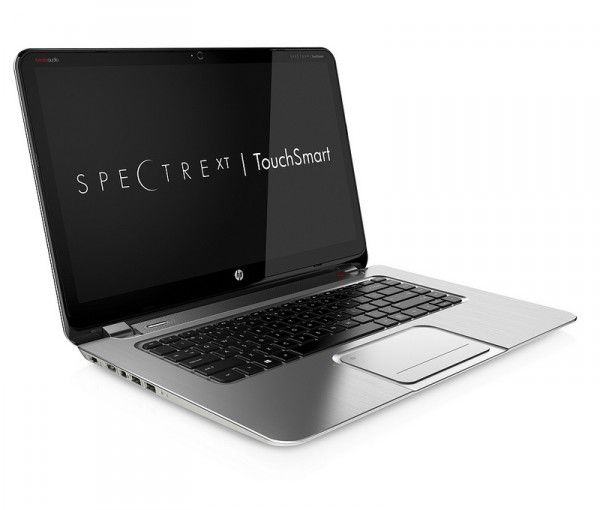 HP says that the following Ultrabook features are included: Rapid Start, Identity Protection Technology, Anti-Theft Technology, Smart Response, and Smart Connect.
The Spectre XT TouchSmart will be available in the US in December starting at $1,399. International availability has yet to be discussed.