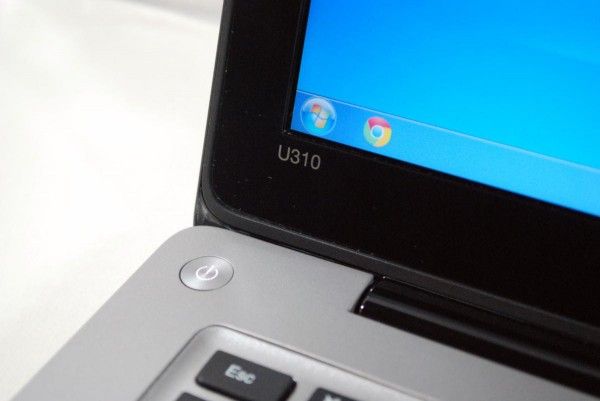 Lenovo's IdeaPad U310 Ultrabook hit the market not long ago but apparently not without issues. Problems with WiFi range and speed have been reported by a number of users. We've actually had a chance to get out hands on two U310's for testing and both have exhibited the problem. We mentioned this issue in our U310 unboxing article, but because it's a persistent issue we wanted to highlight it as a warning to those looking at the U310. According to several reports, the U410 Ultrabook shares the same issue.
The issue is with WiFi speed and range. The U310 seems to have exceedingly short range, unable to find a connection where other devices have no problem. When it is close enough to the access point to get a connection, downloads speeds are significantly slower than other devices. Upload speeds on the U310 seem to be a bit slower than other devices but don't seem to be affected as greatly as download. A quick test reveals that the U310 download/upload to be 7.81 Mbps / 12.72 Mbps while the UX31E is pulling down 29.25 Mbps / 16.79 Mbps at the same distance from the router.
Our IdeaPad U310 Ultrabook uses Intel's Centrino Wireless-N 2200 adapter, however it seems that in some localities it might be equipped with a Qualcomm Atheros adapter. It isn't yet clear if units equipped with either adapters have the issue or only some.
Out of the box, the U310 WiFi was even worse than it is now, hardly ever breaking the 3 Mbps barrier, and showing extremely jumpy download speeds. Updating to the latest Centrino Wireless-N 2200 adapter seemed to improve speeds somewhat but they are still slower than expect and there are still issues with range. U310/U410 users can easily update their Intel drivers using the same guide that we posted for updating your Intel HD 3000/4000 drivers, just find the section titled "Update Your Intel HD3000 or HD4000 GPU Drivers" and grab the latest WiFi driver (and update the others while you're at it!).
There is a thread regarding the issue on Lenovo's official U-series forum which is now 26 pages long with 253 responses, the first post of which was on July 5th. One of three reviews for the U310 on Amazon also indicates the same WiFi problem. Lenovo says that they are aware of the issue and have been attempting to troubleshoot with users on the thread to no avail; their latest response to the thread was on the 24th of July, saying "We have made progress on this, and we should be able to provide an official update shortly." and "I can assure you that this issue does have our full attention." That was more than two weeks ago and users in the thread are clearly becoming frustrated at the lack of a solution, some of them claiming to have returned their U310 or U410.
We've got our eye on the thread and are waiting for a solution. We've reached out to Lenovo for an official comment regarding the situation. For the time being we recommend waiting to pull the trigger on a U310 or U410 purchase until this issue has been sorted out by Lenovo.
Thanks to Sven for bringing this issue to our attention!