Liliputing have done a good job of reviewing the quirky widescreen U845W that I was impressed with on my detailed hands-on and Brad, the author, comes to a similar conclusion to mine –  We don't see it being perfect for widescreen movies but we do see that it makes quite a productive researching/writing setup.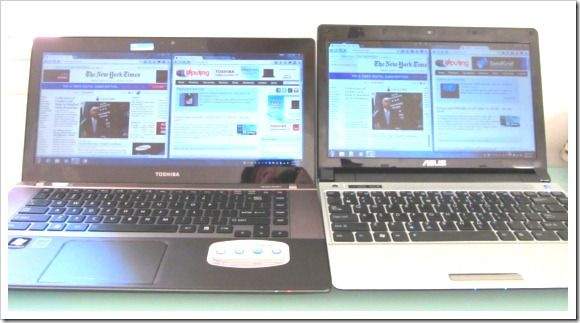 The U845W is available for $968 at Amazon in the USA at the moment and at £899 in the UK (inc. tax.) which isn't exactly a bargain for a Core i5 '2nd-Gen' Ultrabook with a hard drive, the Samsung Series 5 with Ivy Bridge Core i5 at $699 is the price-leader at the moment, but this wide-screen feature could be worth paying for. Some people want vertical space, others, horizontal space.
Liliputing praises the look, the keyboard (and backlight) and some of the included apps but isn't happy with the difficult right-click area on the touchpad. Battery life came in at a real-world 5hrs which, for a device with a 54Wh battery isn't as much as I expected. The glossy screen might put some people off but a matt screen cover will sort that out.
…if you plan to edit large spreadsheets or edit multitrack audio or video files, the extra screen real estate could come in handy. And if you're a writer that likes to keep a research window open next to a writing window, a widescreen (or high resolution) display is the next-best thing to a dual monitor setup.
Read the full review over at Liliputing.  More info shown below.
[embedsite same_height_as="content" src=http://ultrabooknews.com/pullin/productdetails-pullin-generic.php?id=908]