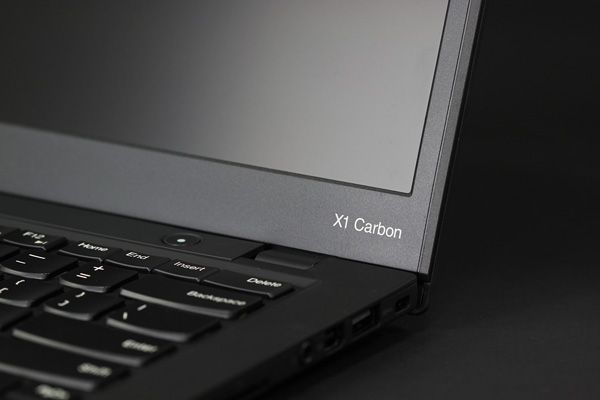 A lot of people are excited about Lenovo's upcoming ThinkPad X1 Carbon. This sleek Ultrabook makes extensive use of carbon fiber to cut weight down, bringing the X1's weight to around 1.35kg. A thin bezel, high resolution matte screen, and integrated 3G make this an Ultrabook you should definitely consider. The Lenovo team has produced and unboxing video which lets you get a look at the final product which should be gracing store shelves soon.
The X1 is in the 13″ Ultrabook class, but thanks to a thin bezel (that we know some of you will love), it actually manages to squeeze in a 14 inch screen which has satisfying 1600×900 resolution and is matte instead of glossy. The screen also tilts all the way back, capable of swinging parallel to the surface the machine is resting on which can be useful for certain situations. The reworked keyboard is backlit and has two brightness settings. Furthermore, the X1 has a quick charge feature which allows it to charge from 0% to 80% in just 35 minutes which is pretty awesome. Lenovo says that the X1 will last for 7 hours, but applying our classic 2/3 rule we expect it to last around 4 and a half hours for typical usage, not bad.

The ThinkPad X1 is one of a few Ultrabooks that you can find with integrated 3G which will appeal to some of the road-warriors out there. A biometric fingerprint scanner is also available which security minded business users will appreciate.
The X1 is one USB port short of what we'd prefer, having only 2 USB ports (1x 2.0, 1x 3.0). A mini-DisplayPort is the only output option which will mean carrying an adapter around with you.
The model in the unboxing is equipped with an Ivy Bridge Core i5 processor, though there will like an i7 option as well. Lenovo says that the X1 passed 'milspec' tests for ruggedness and features a spill-resistant keyboard.
Pricing and availability for the X1 has not been announced yet, but given the unboxing video we expect to see it available in stores soon. Lenovo previously announced that the ThinkPad X1 would be available in "Summer 2012".
Lenovo has been running a series of interviews with X1 engineers which you can find here if you're interested: