For those looking for netbook-style sizing and laptop-style performance, the 11.6" category of Ultrabooks is the place to be. It's not the most active category, that belongs to the 14" segment, but it's an important one for many. To make an 11.6" Ultrabook though takes skill, leading-edge components and some trade-offs. Battery capacities are generally smaller than in the 13.3" Ultrabooks and screen resolutions must be kept to sensible levels to avoid having to boost font sizes. One the other hand screen backlights take much less power making the 11.6" Ultrabook one of the most efficient there is. In this article I take a look at the options.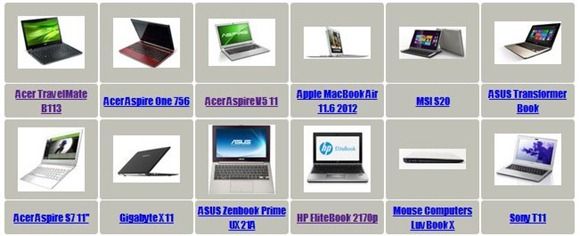 Readers choice
Let's start with what readers view as the most interesting 11.6" Ultrabooks. We have 8 devices in the database and as of today, only four are available. If we take a look at the ultrathins and alternatives, there are 23 that can be considered.
Of the Ultrabooks available it's clear that the ASUS UX21E and UX21A are the most popular and given no cost restrictions, the UX21A is the one that most people are interested in. It's stylish, light, has a HD/IPS screen, comes in Core i5 or Core i7 Ivy Bridge versions and improves on the keyboard of the previous generation UX21.  There are micro HDMI and Mini-VGA ports to contend with and no removable storage slot.
I thought the Sony T11 might be #2 in reader popularity but it's the Samsung XE700 slate that comes in at #2. At under 1KG without the keyboard it's a very lightweight processing unit. The touchscreen will be more interesting when Windows 8 is released but even so, the Samsung XE700 is an interesting modular choice. You can only find it in Sandy Bridge version (we won't be surprised to see a refresh of the XE700 announced in Sept) and it's offered in many countries as a B2B product. That means you can't find it in many places and the prices are rather high although there is a Celeron version of it in some regions. The Samsung XE700 is an interesting ultraslate but probably not what most of you are considering if you're thinking 'Ultrabook.'
The Sony T11 is the second most popular 11.6″ Ultrabook model and rightly so. In some regions it's one of the lowest price Ultrabooks there is, undercutting the UX21A by hundreds of $/€.  This base version is a Sandy Bridge Core i3 model though and we have to raise a flag on the weight. It's not the lightest. In fact, there are a number of 13.3" Ultrabooks that are lighter. For those needing a card reader and one a the few Ultrabooks that has a replaceable battery, the Sony SVT-11 delivers. It also has a hybrid HDD so if you're looking for storage space, again, the Sony is a good option over the SSD-only ASUS UX21. Full size VGA, HDMI and Gigabit Ethernet are also included and the battery size is  45Wh. Few reviews exist on the Vaio SVT11 and in fact the only feedback I've found on it is from a few customers on Amazon.de in Germany where 4/5 is the going review rate but there is a mention of a noisy fan. You might want to wait for a full review (we're in contact with Sony) but at this price, it could be worth buying online and sending back if you're not happy. Any SVT-11 owners out there care to give us a mini-review?
Other 11.6" choices.
Don't forget the popular MacBook Air 11.6! It goes without saying that if Windows is not a neccesity, you need to look at the Apple solutions too. The MBA 2012 continues to get good reviews. [Here's one giving it 5/5]
For the budget-minded buyer and perhaps someone wanting to upgrade from a netbook, take a look for the Acer Aspire V5 with 11.6" screen and Core i5 Ivy Bridge CPU. It's the same weight as the Sony but is quite a bit cheaper. It has a much smaller battery though for a max 5hrs usage. Maybe the money saved can be used to buy a few spares! There's a TravelMate and Aspire One version of this too.
Also keep an eye out for these non-Ultrabook models. The Lenovo X121e comes in AMD flavor too at competitive prices. Neither is available with Ivy Bridge.
What's coming soon?
Keep an eye out for these products coming soon. None of these will be cheap (we're not expecting much below $1000 for any of them) and the three touchscreen models will obviously be targeted towards a Windows 8 launch. The Gigabyte X11 and LuvBook X (from the same original designer and manufacturer) are just appearing in sales channels now and are two of the lightest Ultrabooks available.
The Lightest Ultrabook
The lightest Ultrabook on the market today is not the one with the smallest screen size. The Nec LaVie Z is under 900gm in weight beating even the lightest 11″.6" Ultrabook by 10%. Unfortunately it's only available in Japan or via import and it's isn't cheap.
All 11.6" Ultrabooks and Ultrathins
Click for a list containing more information, links, pricing, images news and more.
[embedsite same_height_as="content" src=http://ultrabooknews.com/wp-content/themes/ultrabooks/all_11_ultrabooks.html]