You'll see this touchscreen Ultrabook used extensively over the next month or so as I explore and demonstrate software and operating system elements. In this video I want to answer one of the most often asked questions – why have a touchscreen on a laptop when your hands need to be near the mouse and keyboard?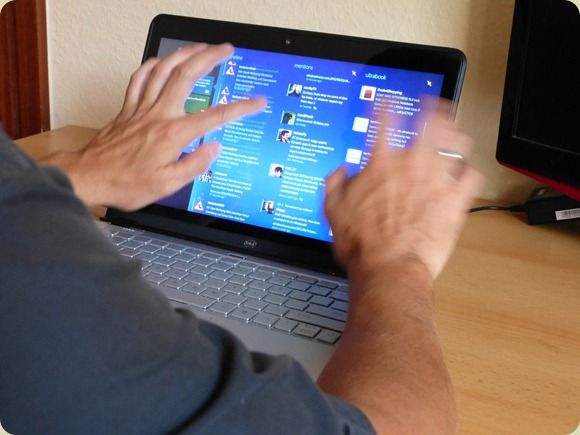 I've been using touchscreen devices since 2007. For over 1 year I used a touchscreen netbook as my only laptop, It was running Windows XP (not tablet edition) and had a resistive touchscreen. Even with all those limitations there were scenarios where I found using touch to be an advantage. Sometimes it's not natural but sometimes it's worth it.
There are two videos below. The first shows a true made-for-touch experience. Fruit Ninja works well and with the large-screen multitouch and no need to hold the device in a hand, easier than on a tablet. This scenario is one of three touch scenarios you'll find yourself in with a touch Ultrabook and I demonstrate all three in the second video.
Scenario 1 – Easy Touch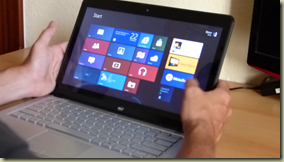 Windows 8 'Metro' UI works in a very natural mode and when consuming, is actually very relaxing, fun and productive setup.The two hands wrap around each side of the screen and the thumb and forefinger become the main controllers.

Scenario 2 – Center Screen Working (Sub-Optimal)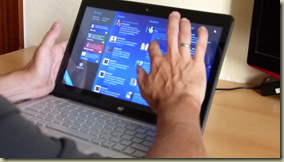 This is less natural and it's going to be difficult to convince many people that this is a good way of working. I use it but only for scenarios where it makes sense. In some Metro apps where touch control extends into the middle of the screen it's not that nice. Take Metro Twit. The center scrolling column requires some hand movement. It would be better if the columns were changed to rows and could be controlled from the sides.
Scenario 3 – Center Screen with Benefits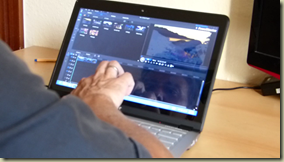 This is your productive touch scenario and it requires a solid screen and some practice. It's a scenario where you commit to getting the hands moving in the name of productivity. In scenario 2 there are times when having to move the hand to the center of the screen for one swipe is awkward. The difference in scenario 3 is that you're getting benefits by getting touchy. The same scenario applies to touch-driven games and other touch-focused applications like painting. It's this scenario that is the hardest to convince people of and the hardest to learn. Once you get to this stage though, you'll find yourself touch monitors and laptop screens without thinking about it. Personally I've gone a bit beyond this stage and can get benefits by driving the desktop with my fingers – an application that isn't really tailored towards fingers. Many of you that have had TabletPCs in the past will know about this stage.
The Videos
Again, the first video is a dedicated touch game. The second video demonstrates the three scenarios I mention above. If you have experience and thoughts or you have questions or want to see something else demonstrated, comment below.