There's an Ultrabook battery report out from the Electronics TakeBack Coalition – a company that "promotes green design and responsible recycling in the electronics industry" and it doesn't look too good. Only 2 Ultrabooks have been highlighted as having removable batteries but there's a different side to this story that hasn't been considered by the ETBC.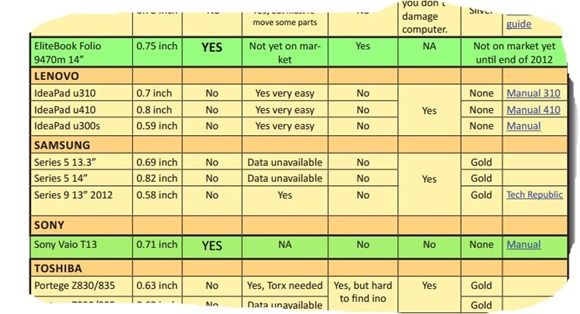 Report PDF here.
It's true. Only the Sony Vaio T11 and T13 and HP EliteBook Folio 9470m seem to be offering removable batteries with all others choosing to seal a battery pack into the unit. [The new ASUS S46 and S56 should also have removable batteries when they launch.] In some case the pack – usually a plastic-wrapped unit that can't be bought online – is accessible but unless it's a user-replaceable unit with safety certification you aren't going to be able to replace it easily.
It's this safety certification that's one of the issues. By sealing in the battery packs, designers don't have to cover the batteries in a puncture-proof unit that takes space, cost and certification. The control circuitry doesn't need to be included in the pack either. It's a size and cost trade-off and for many, it isn't going to be a problem. I've been using a Toshiba Z830 daily for about 6 months (it's an 8 month old unit) and the battery wear rate is 13% meaning I'll get through my planned 2-year ownership cycle without any issues, unless the battery fails.
If the battery fails I'm without a laptop for a week while it get repaired and that could be an issue for me. There's also the disadvantage that I can't take a pre-charged spare with me and leave the mains charger at home for a day out.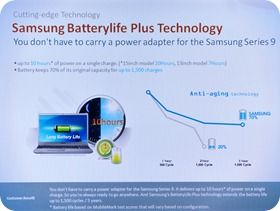 Intel have been looking at ways to standardize batteries on low-cost Ultrabooks. For Ultrabooks being built to a price, the 16650 cylinder and 60x80mm Li-Ion sell have been proposed as standards but they will still need to be sealed-in in most cases.
Like most tablets and even some phones, sealing the battery in is going to remain an essential part of the design in order to keep sizes and weights down and BOM costs low and as battery life longevity increases, it will be less of a problem for users.  In a recent demonstration, Samsung told us how their batteries are designed for a three-year lifetime / 1500 cycles with a retained capacity of 70% (as long as the user uses the Samsung charge process which restricts max capacity to 80%) so obviously manufactures are thinking about this and in terms of eco-friendliness, higher capacity, longer lasting batteries that use less electronics, require less certification and less protective plastics is an advantage.
In my opinion I think it's better to work towards battery manufacturers making better, stronger, longer-lasting batteries that can be sealed in with no impact to customers rather than the kludge of having to buy replacements and throw away old batteries.
There's one thing I think we can all agree on in the report though – Manufacturers need to be more open about whether batteries are user replaceable or not. To that end, we've added 'replaceable battery' to our Ultrabook database. E.g. here in the "Additional Specs" category and in our Alpha-release Ultrabook Selector under 'Accessories'
Via PCadvisor UK
Source: Electronics TakeBack