Just how long have we been waiting for a low-power productive computing platform and an operation system built to go with it? Atom has been around (largely unchanged in it's CPU architecture) for many years but we've been through Windows XP, Vista and Windows 7 before the OS finally matured to support touch, pen and mouse computing. UMPC's won't  be coming soon but if the convertible Windows 8 devices do well, there's a chance that the screen-sizes will drop.
Last week at IDF I took a look at a few of the convertibles and spent a lot of time learning about the platform and analyzing what could be possible.
Videos – Asus Vivo Tab, HP Envy X2. Acer Iconia W510 coming too.
ASUS Vivo Tab.
This is my favorite of the Atom-based removable tablet designs.
HP Envy X2
Another good design. This one has the HDMI on the keyboard dock.
Key features of CloverTrail / Windows 8 tablets
The Z2570 dual-core design uses a similar CPU architecture to previous Atoms. We shouldn't expect too much more performance although the 'turbo' to 1.8Ghz and dual-core architecture should be enough to make most people happy. The key here is power and AOAC/Windows 8 Connected Standby. The new architecture has new S0ix power states and combined with new features in Windows 8 should dramatically reduce the idle power, and thus, the average system power.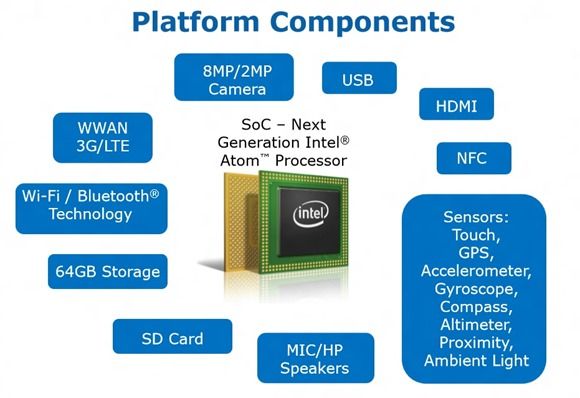 Windows 8 will also support sensors in it's Windows 8 Metro applications, there's NFC support and a number of media enhancements. 1080p 30 FPS video encoding is supported (we're not sure if this is exposed in the Intel Media SDK) and there's a image processing unit too.  Audio can be offloaded to a hardware unit by Windows 8 Metro apps.
Expect 10+hrs battery life with multi-day online standby!
Having tested the tablets available at IDF this week I'm very interested in the platform. I've never been a 11.6 inch tablet fan so a non-removable screen (in the netbook style) is something I'll be looking out for but I'll also be expecting to see 10 inch and smaller tablets coming out. I estimate that CloverTrail could support a 7 inch Windows 8 design.