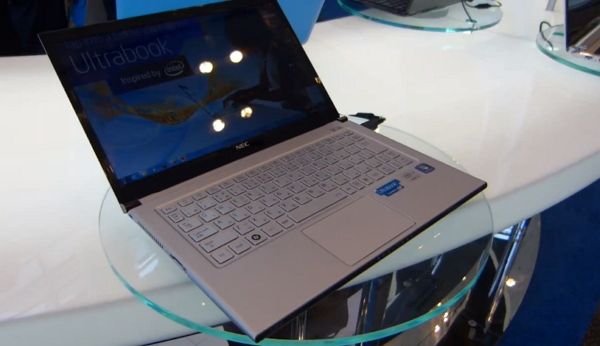 Chippy is checking out Ultrabooks at IDF this week and he had a chance to get his hands on the NEC Lavie Z Ultrabook. What makes this unit stand out is its incredible weight. This is a 13.3″ screen; at just 876 grams, the Lavie Z is the world's lightest Ultrabook in it's class, even lighter than many of the Ultrabooks in the size class below it. For example. the Asus UX21A with an 11.6″ screen is about 1100 grams.
The impressively low weight is thanks to plenty of light weight magnesium alloy. Along with low weight comes a rather slim design. The Lavie Z is just 15mm thick and it doesn't comrpomise the port set too badly, you'll still find the following: full HDMI, 1x USB 2.0, 1x USB 3.0, 3.5mm headphone jack, and full SD.
Mobility like this doesn't come cheap though — the Lavie Z is only currently available in Japan and is only available in other places through importers like our friends at Dynamism. They have the Lavie Z available starting at $1799 for a Core i5-3317U model with 4GB of RAM and a 128GB SSD. There is also a $2299 variant on offer with Core i7-3517U, 4GB of RAM, and a 256GB SSD.