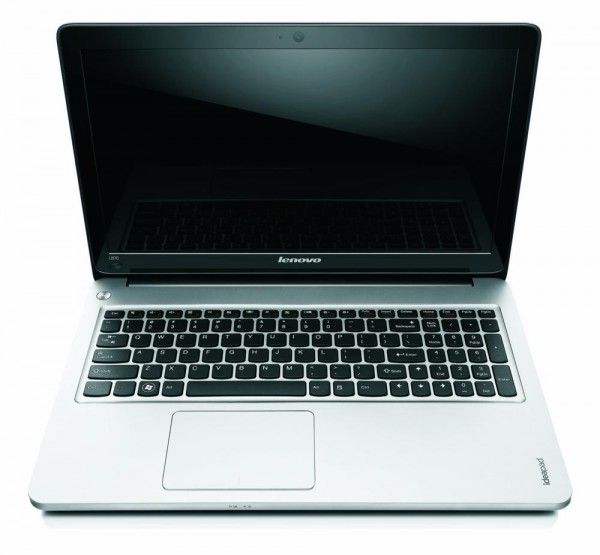 This Ivy Bridge based IdeaPad U510 is a big Ultrabook with 15″ screen; Lenovo is targeting it as a budget Ultrabook which combines the benefits of an Ultrabook with the utility of a standard laptop — a somewhat shallow sentiment which is apparently fulfilled with the simple addition of an optical disk drive. Still, the U510 is going to bring Ultrabook responsiveness at the impressively low price of $679. Lenovo has been really quiet about the upcoming U510 Ultrabook that they are adding to the U-series lineup, but we've managed to uncover some photos of the device which reveal some additional info.
Most tech specs are still lacking for the U510. We know it'll have options up to a Core i7, 1TB of HHD space, and an optional upgrade from DVD drive to Blu-ray drive. Absent from the company's info so far has been screen resolution, RAM, and ports. We can confidently cross one of those off the list now that we have a good look at the U510.
Ports on the U510 are now plain to see: 3x USB, full HDMI, full LAN/ethernet (RJ45), 3.5mm headphone/mic combo jack, full SD, and what appears to be micro-VGA. This port set mirrors that of the smaller IdeaPad U310 with the addition on the micro-VGA port. In our review of the U310, we cited the lack of VGA as a downside. We would have preferred a full VGA port so that there would be no need for an adapter but micro-VGA isn't a bad compromise. Still it does seem like on the 15″ U510 there should be room for to spare for the genuine article!
The keyboard on the U510 looks just like the one on the U310 — one of the best parts of the Ultrabook — with the addition of a full numpad; a change that some are sure to appreciate.
We've got our eyes out for more U510 info, stay tuned.