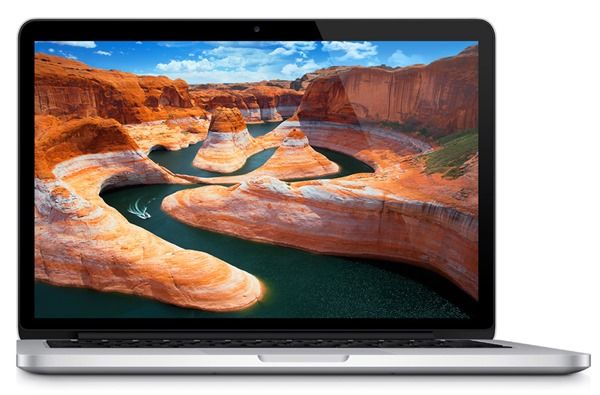 Apple now has another product that compares well with the Ultrabook sector, and it's very impressive. Weighing in at 1.63KG / 3.57lbs the Macbook Pro 13" offers more processing headroom, a lot of pixel density, two Thunderbolt ports, backlit keyboard, SSD and a huge, really huge, 74Wh battery. That alone is an engineering feat that others need to be aware of.
The MacBook Pro 13" entry level model comes with a Core i5 (probably the i5-3210M) running at 2.5Ghz with Turbo up to 3.1Ghz. This is a 35W TDP part so while browsing drain is likely to be on-par with an Ultrabook, it will push some scary battery drain rates under heavy load. The 74Wh battery should help to offset that though and knowing that these platforms can run about 10W Wi-Fi connected browsing, 7hrs should be no problem as long as you're not doing anything that's going to toggle those pixels too much. The retina display (2560×1600) will certainly require some GPU power to keep it updated.
$1699 is the entry level price though so if you want 768GB SSD and a Core i7, go ahead, if you've got $3199 ready to hand-over!
Two Thunderbolt ports, stereo speakers, HDMI, SDXC and two USB3.0 ports keep you connected.
Graphics on all 13.3" models is HD4000 but there's a new 15" (2880×1800) model that includes an Nvidia GT 650M. The 15" MacBook Pro Retina includes a 95Wh battery and weighs 4.46 pounds, 2.20KG which is still impressive.
For comparison's sake, the Samsung Series 9 13.3" with a Core i7 (1.9Ghz-3Ghz), 256GB SSD but only 4GB RAM and a 1600×900 screen has a 60Wh battery, one of the biggest on the Ultrabook market. The price for that (RRP) is about the same as the new MacBook Pro 13" Retina. The weight of that though is only 2.6lb
$1699 is certainly not cheap but that's not the point. Apple have just shown that there's more that can be done with a 13.3" Ultrabook design.
More information here at Apple.  We'll get the Apple MacBook Pro Retina models in the database for you soon.