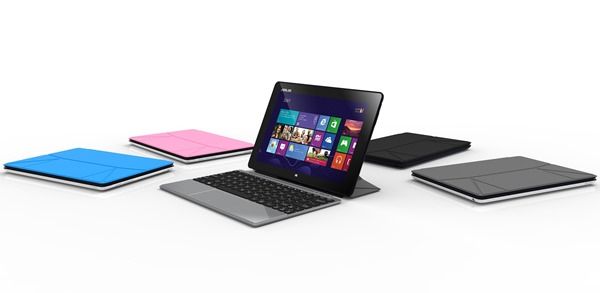 For those trying to keep up with the changing rumors, cross-border PR and trade show differences and developing ecosystem, tracking ASUS over the last three months has been a nightmare. At an event yesterday though, ASUS revealed their final line-up of Windows 8 tablets, dockables, flipables and Ultrabooks. At least for the USA! One surprise in that event was a second CloverTrail based ASUS Vivo Tab. The ASUS Viv Tab Smart.
The ASUS Tab Smart is a 10.6 inch Windows 8 Tablet where the ASUS VivoTab is an 11.6 inch model. Differences don't stop there because this is a cut-down version that will be offered for the same $499 price as the ASUS Vivo Tab RT (Windows RT, ARM version.)
You still get the 2GB RAM and it's reported you get a 64GB SSD, 8Mp cam, Micro-USB and Micro-HDMI ports. A MicroSD card reader and a headphone port also included.
Apart from the size reduction, which is likely to result in a battery capacity reduction, there's no digitiser. There's also no possibility to use a keyboard dock as on the Vivo Tab although a Bluetooth "Trans Sleeve inch keyboard cover will be available. A 'real' Bluetooth keyboard is also going to be available.
Given that the ASUS Vivo Tab Smart already has a model number, ASUS ME400C, it could be coming soon.
Specifications
CPU: Clover-Trail 1.8Ghz (1.5Ghz nominal. 1.8Ghz max)
Screen: 10.1 inch 1366×768
Weight: Unknown
Battery Capacity: Unknown
8MP cam on rear. 2MP on front.
A 3G/4G version is likely.
Note: There's some confusion out there as to whether this is a 10″ or 11.6 inch model. To add to the confusion ASUS' press release doesn't mention the "ASUS Vivo Tab inch only the Smart is mentioned….
The VivoTab Smart is the perfect traveling companion with a fresh stylistic design. This thin and lightweight 10.1 tablet design offers the full Windows 8 experience and is available with black, white or red finishes. Its optional TranSleeve keyboard combines a compact wireless keyboard with color-coordinated screen protection.
Update: The VivoTab and VivoTab Smart were mentioned in the press event. The dockable VivoTab with Wacom Digitiser is 11.6″, the VivoTab Smart is 10.6″
Sources: Liliputing, Mobile Geeks, ASUS