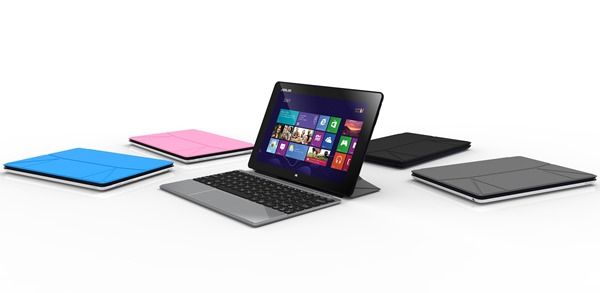 For those trying to keep up with the changing rumors, cross-border PR and trade show differences and developing ecosystem, tracking ASUS over the last three months has been a nightmare. At an event yesterday though, ASUS revealed their final line-up of Windows 8 tablets, dockables, flipables and Ultrabooks. At least for the USA! One surprise in that event was a second CloverTrail based ASUS Vivo Tab. The ASUS Viv Tab Smart.
The ASUS Tab Smart is a 10.6" Windows 8 Tablet where the ASUS VivoTab is an 11.6" model. Differences don't stop there because this is a cut-down version that will be offered for the same $499 price as the ASUS Vivo Tab RT (Windows RT, ARM version.)
You still get the 2GB RAM and it's reported you get a 64GB SSD, 8Mp cam, Micro-USB and Micro-HDMI ports. A MicroSD card reader and a headphone port also included.
Apart from the size reduction, which is likely to result in a battery capacity reduction, there's no digitiser. There's also no possibility to use a keyboard dock as on the Vivo Tab although a Bluetooth "Trans Sleeve" keyboard cover will be available. A 'real' Bluetooth keyboard is also going to be available.
Given that the ASUS Vivo Tab Smart already has a model number, ASUS ME400C, it could be coming soon.
Specifications
CPU: Clover-Trail 1.8Ghz (1.5Ghz nominal. 1.8Ghz max)
Screen: 10.1" 1366×768
Weight: Unknown
Battery Capacity: Unknown
8MP cam on rear. 2MP on front.
A 3G/4G version is likely.
Note: There's some confusion out there as to whether this is a 10″ or 11.6" model. To add to the confusion ASUS' press release doesn't mention the "ASUS Vivo Tab" only the Smart is mentioned….
The VivoTab Smart is the perfect traveling companion with a fresh stylistic design. This thin and lightweight 10.1 tablet design offers the full Windows 8 experience and is available with black, white or red finishes. Its optional TranSleeve keyboard combines a compact wireless keyboard with color-coordinated screen protection.
Update: The VivoTab and VivoTab Smart were mentioned in the press event. The dockable VivoTab with Wacom Digitiser is 11.6″, the VivoTab Smart is 10.6″
Sources: Liliputing, Mobile Geeks, ASUS