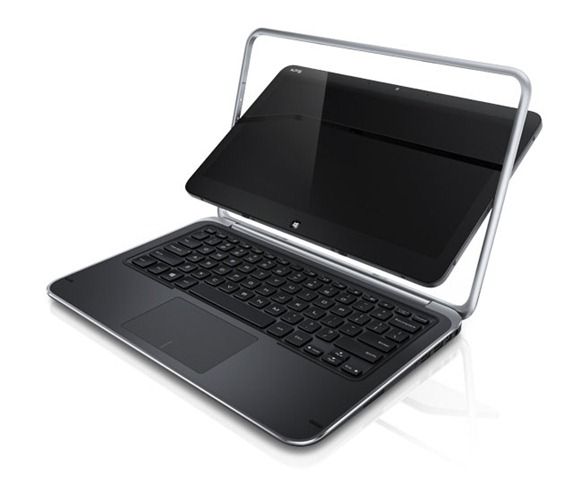 It's been a busy week but that doesn't mean there hasn't been a few hours to just sit down and read. I took some time yesterday to go through a set of reviews of the new Dell XPS 12 'flipper' and have made some notes for you below. All review links have been added to the Dell XPS 12 information page.
Overall the reviews are fairly positive about the build quality and everyone seems to be a little excited about the flip screen but there's a feeling that the XPS 12 is more useful as a laptop rather than a tablet. I agree. My own hands-on confirmed that the weight and size (remember, the wider the tablet, the heavier it will feel at the wrist, the fulcrum of the weight) would be too much for many.  As I said back in Sept, this is a device for those mainly wanting a  laptop with touch and occasional tablet-style capabilities.
The keyboard gets good marks, SSD is very fast, battery life is average and…well take a look at the notes below and check out all the reviews.
Before you read the notes, I've got a round-up of some important  specs and features…
400 Nit screen which is brighter than most.
Gorilla Glass for screen protection.
Shipping 9th Nov, USA.
Ambient light sensor for keyboard backlight
Battery Check button
Mini Display port. No adaptors supplied. (V1.1 on Ivy Bridge)
Wi-Di capable Centrino Advanced-N 6235 with BT4.0
No SD card slot
No Digitiser / Pen
Dell XPS 12 Review Notes
Pretty
Feels heavy for a 12.5" laptop
Inconvenient to use in tablet mode for long stretches
Has some real limitations in the audio department
Battery life "not particularly impressive"
Notebookcheck
Centrino Advanced-N 6235 confirmed
Touchpad: build quality earns them a "very good" rating
Screen: "…the user will need good eyesight to read symbols and characters clearly without increasing their size."
Screen color spectrum is not professional level, although "more than enough for private use"
Good performance with SSD. 471MB/s max read performance.
"The XPS 12 is an extremely quiet companion"
Speakers: "Although the XPS 12 is better than most tablets, it is not as good as most Ultrabooks"
Battery: 5h 34Min surfing.
Comfortable to hold
5hrs 9 mins in battery rundown test
Better laptop than tablet
Good measured screen brightness
Felt comfortable to hold in tablet mode
Typing on the XPS 12 is a treat
Touchpad issues
Speakers: nice balance between highs, middles, and lows
Laptop Battery Test (Web surfing via Wi-Fi on 40 percent brightness), the XPS 12's 47wHr battery lasted 5 hours and 46 minutes.
Audio was predictably thin
The lower-end Core i5 configurations will be more than fine for everyday Web surfing, productivity, and media playback tasks
Touchpad: It tracks well but it doesn't register taps appropriately
Keyboard: is quite well made
it's a hefty slab of computer to be carrying around like an iPad
Fan: Play even a rudimentary videogame and the fan kicks in
Battery: the battery life is also poor
it's largely unusable as a tablet.
If you spot any good quality reviews, or have the XPS12 and want to write a paragraph or two here on Ultrabooknews, let us know in the comments below.