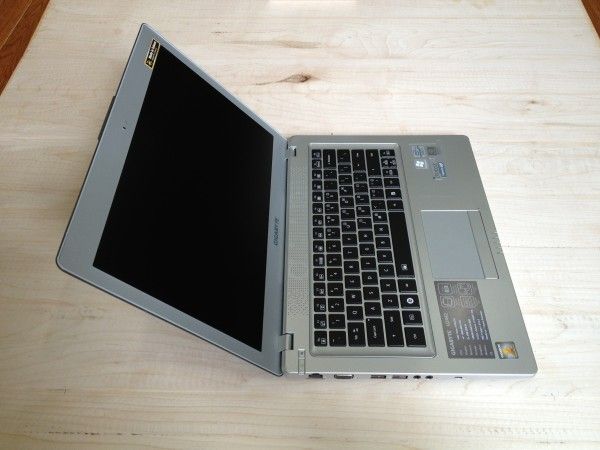 Our pals at Dynamism sent us over the new Gigabyte U2442 Ultrabook with discrete graphics to have a look at. Gigabyte is also launching non-Ultrabook versions of the U2442, but the U2442V which we've got is the high-end Ultrabook model. Pretty much every spec is what you might ask for from an ideal Ultrabook. I've been using the U2442V for a few days now and have some initial thoughts to share about this performance powerhouse.
The Gigabyte U2442V might have an unsightly name, but it's packed to the brim with performance components:
Intel Core i7-3517U processor, 1.9GHz with Turbo-boost up to 2.4GHz
8GB of RAM
14″ display @ 1600×900
128GB SSD
Nvidia GeForce GT 640M discrete graphics
In addition to the GT 640M, the third-generation Core i7 (Ivy Bridge) processor includes integrated HD4000 graphics and the U2442V will toggle between them automatically for power savings (which essentially boils down to using the GT 640M on power and HD4000 on battery), but you can manually decide which is used as well. Nvidia's configuration also allows you to use one of the cards for video rendering and the other one for physics calculations thanks to Nvidia PhysX.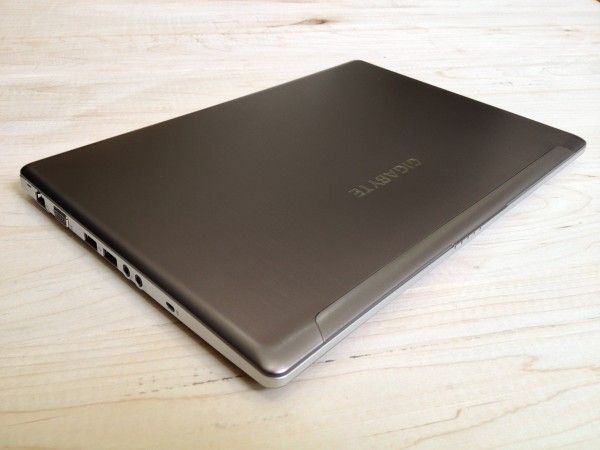 The U2442 feels well built and shares some styling queues with the Lenovo U310 — the top and bottom are brushed dark-champagne aluminum while the keyboard deck and other inside surfaces are silver plastic.  The keyboard is one of the best I've used on an Ultrabook, offering what feels like a perfect combination of key travel and feedback without being too loud. I should mention too that the keyboard is back lit which can be useful from time to time.
Much respect to Gigabyte for not loading the U2442V up with bloatware. Out of the box there is little to bother you aside from some utilities down in the system tray and a few promotional shortcuts on the desktop. There are significantly less processes running on the U2442V fresh from the factory than from other Ultrabooks I've used.
Being in the 14″ class, the Gigabyte U2442V is relatively large; it feels a bit more like a standard laptop (in terms of size) than some of the super-sleek Ultrabooks like the Asus Zenbook series. It's clear that Gigabyte wanted to pack as much performance into this package as possible and considering everything that's inside I'd say it remains pretty thin (just under 21mm, as per Intel's Ultrabook specifications for 14″+ devices). It's a bit heavier than I'd like for everyday mobile use (which is how I tend to use my computers), but if you're looking for portable power (and gaming) that can easily go from one desk to the next the U2442V should be on your list.
Speaking of which, the U2442V has a great port set:
2x USB 2.0
2x USB 3.0
full VGA
full HDMI
full SD
separate 3.5mm headphone output and mic input
LAN/ethernet (RJ45)
There's also access to the HDD and RAM through the bottom of the unit (thank you, Gigabyte!).
As for gaming, the GT 640m is the middle-high end card from Nvidia and from my limited testing thus far it performs very impressively. The card easily handled Call of Duty 4: Modern Warfare (2007) well beyond 30 FPS at maximum resolution (1600×900) and maximum settings. The same thing goes for Borderlands (2009) — full settings, 30+ FPS with ease. Neither of these games actually presented enough of a challenge for the U2442V and GT 640M so I'm in the midst of downloading more demanding games to see what it can keep up with. So far things are looking very good.
We'll have a full detailed Gigabyte U2442 review in the very near future. Stay tuned and feel free to drop any questions you might have here!