Lenovo have announced two Windows 8 Touchscreen Ultrabooks and an Atom-based convertible. The Ideapad Yoga 13, Ideapad Lynx and Thinkpad Twist. Prices for the Ultrabook models start at $849.
Lenovo Twist and Lenovo Lynx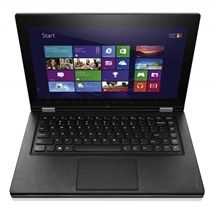 The Lenovo Ideapad Yoga 13 is a device that could bring a lot of attention to Lenovos Ultrabooks but will it sell? It starts at $1099 in the US (pre-order from Oct 12th, availability from Oct 26th.) It weighs just under 1.5KG which, while fine for a laptop with up to 8hrs of battery life, could be a problem for those wanting to use it as a tablet.  More in the Yoga, including our videos, here.
Ideapad Yoga 13 Features:
1600×900 multi-touch screen
Core i5/i7 CPU
SSD storage up to 256GB
One USB3.0 port plus one USB2.0 port
HDMI port
SD card reader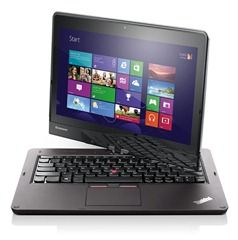 The Lenovo Thinkpad Twist uses a rotating 12.5" screen as we've seen on some netbooks in previous years. It achieves much the same as the Yoga does, at a starting price of $849. This business-class device comes with options up to Core i7. There's a 350nit IPS display too.  A Display Port connector is also included. (V1.1 on Ivy Bridge.)
Thinkpad Twist Features:
1366×768 multitouch screen with Gorilla Glass
Core i3, i5, i7 options
Max 8GB RAM
Two USB3.0 ports, Gigabit Ethernet, Mini HDMI, Mini DisplayPort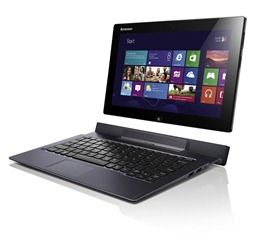 Focused at the consumer is the Lenovo Ideapad Lynx. As with some other products launching with Windows 8 in Q4, this one has a removable tablet component. We suspect the complete package could be a little heavier than most Ultrabooks but you've got some interesting flexibility there. The screen is 11.6" meaning the tablet section shouldn't be too heavy. This isn't an Ultrabook though. A Clover-Trail dual-core 1.8Ghz Atom CPU will be at the heart of this one which is why the tablet part of this will 'only' cost $599.
Ideapad Lynx Features:
1366×768 11.6" screen
Intel Atom Clover Trail CPU (Z2760)
2GB RAM
32 or 64GB storage
Micro USB 2.0 port (no USB3.0), micro HDMI and Micro SD port
Lenovo also announced a Windows RT, ARM-based Yoga with 11.6" screen.
Press Release (Lenovo USA)
The big question for us is why couldn't Lenovo squeeze a Core CPU into the detachable tablet design? We're seeing this design with Core in a few places but most manufacturers are only offering it with Atom CPU inside. It indicates that the latest Core CPUs aren't ready for tablet prime-time yet. With lower TDP versions of Core CPUs coming in 2013 we hope to see the Lynx Pro as a true dual-purpose work-horse.
Also unknown at the moment is whether Lenovo will be offering an entry level touch-enabled Ultrabook with traditional laptop hinge.