Unconfirmed but appearing in the flesh on photos in China is the Lenovo Thinkpad Helix, an 11.6" Core-based Tablet with keyboard docking station in much the same style as the Lenovo Ideapad Lynx, a more consumer-focused dockable tablet built around the Intel Atom Clover Trail platform. Details are think on the ground but we've pulled together as much as we can for you.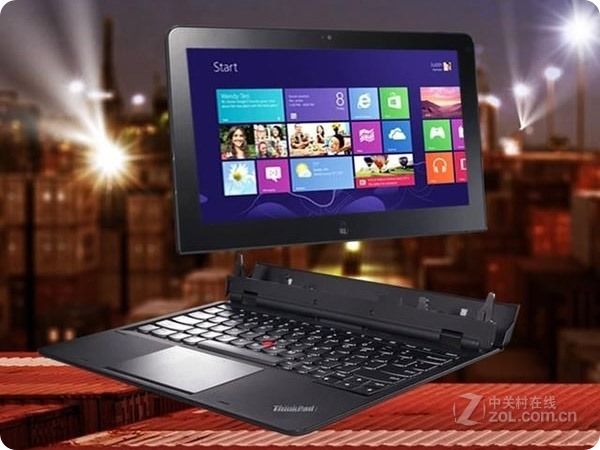 There's some confusion about the mechanism here but after looking and reading through a number of reports, we're going to say it has a single-sided screen that can dock with the screen facing forward or backwards.
The 11.6" screen is said to be IPS and battery life is said to be up to 10hrs which we find hard to believe for a Core-based tablet unless there's a battery in the base, which seems unlikely given the thickness in the images, but sensible based on the balance issues this design presents.
A limited set of ports is found on the back of the dock and we assume there's at least a headphone and USB port on the tablet itself. Some ports appear on the docking edge of the tablet and it looks like they include a couple of card slots, a mini-display port, USB3.0 and a power connector. Looking at some of the image we can see additional active cooling on the docking station. Could this be the first tablet to get a TDP-UP boost when in the docking station?
No weights have been given but getting a design like this under 800gm for the tablet, and 400gm for a stable dock, is difficult. We'd say 2.2lb as a minimum but more likely 2.5lb / 1.3KG
Wi-Fi, Bluetooth and 3G details are not mentioned but there's a pen involved (for a digitiser we hope) which you can see in the Engadget CN images.
The Lenovo Thinkpad Helix will be going up against the other dockable ultraslates – The ASUS Transformer Book [We're hoping for more information on that today] the Samsung ATIV SmartPC Pro 700T, the Fujitsu Stylistic Q702 and of course, the Microsoft Surface Pro in 2013.
See the Lenovo Helix page for all the details we have at the moment, and info on the competing products.
Given the lack of PR on this, and the PR that the other new Lenovo touchies, twisties, convedrtibles and splittiers are getting, we don't expect this one to be available just yet, at least globally.
Sources: Zol.com.cn,  Thinkpad Forum.de, Benyouhui, TabletPCReview Forum