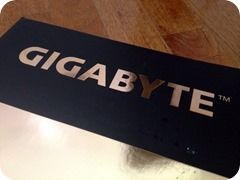 Good morning from Bonn, Germany!
I've been so busy with the Ultimate Coder Ultrabook Challenge over the last 2 days that a few news items have slipped through unattended. Ben is working on TWO Ultrabook reviews too so we'll let him get on with that -  he's got a Sony and  Gigabyte for you (yes, the one with the Nvidia GT640!)
First, a public announcement… let your friends and family know about a telephone support scam. I got a call yesterday and had some fun but it's a serious matter.
But now back to the news updates…
Panasonic have demonstrated the AX Series Ultrabook with ASUS Taichi-like folding screen. As with most Panasonic devices it's likely to remain in Japan and it launches with Windows 8 later in October. It's an 11.6" Ultrabook which could be quite light given Panasonics skills but it looks a little bulky to me. As I've said before, 'tablets' that weight over 1KG aren't going to be the most user friendly. Engadget have some more images and a video. Ubergizmo have some pics.
On the subject of 180 degree folding screens, there's a brief bit of news about the ASUS TaiChi. Asus are displaying the Taichi at Gitex Shopper in Dubai and ASUS say the TaiChi will be "launched by" the first quarter of 2013. I take that as being 2013 and not just before Christmas although it was a local country manager talking. If you've heard something else, comment below!
There's an availability update on the Acer S7 which we had previously heard would be available before Windows 8. The US price of $1199 isn't cheap but it doesn't surprise me given the screen and design. The latest availability is said to be available on October 26th. The model number is Acer S7-391 as far as we know.
We've been working hard to get all the Windows 8 Ultrabooks in the database and will be creating a 'WIndows 8 Touch' Ultrabook list. In the meantime you can use our terribly designed  'alpha' Ultrabook selector tool [Please – anyone out there care to php/html this page into shape?] to get a list. Choose 'capacitive touchscreen' to get the latest list of touch-enabled Ultrabooks.