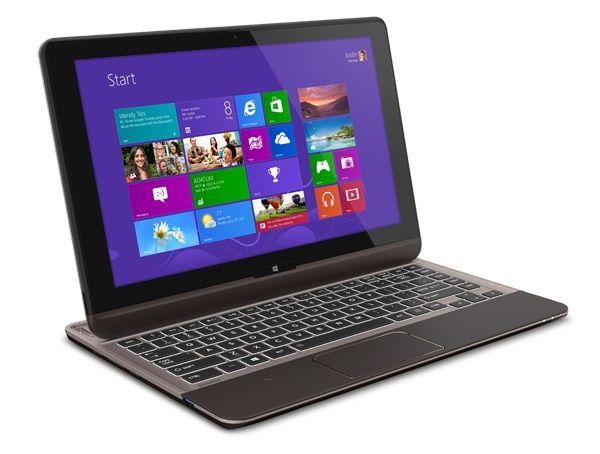 The Verge seems to be the first to have their hands on the Toshiba Satellite U925T Ultrabook convertible. The U925T (also known as the U920T) is a Windows 8 slider which the company is now selling for $1149.  The U925T is likely on your list If you're looking for an Ultrabook convertible. Is it worth the $1149 price tag? Let's see what The Verge has to say.
The U925T / U920T as priced comes equipped with a Core i5-3317U processor, 4GB of RAM (1600MHz), and a 128GB SSD. The port set is limited, but Toshiba did manage to fit 2x USB 3.0, full HDMI, full SD, and a 3.5mm headphone/mic combo port on this 12.5″ Ultrabook convertible. The U925T also has a great set of sensors: 3-axis gyroscope, 3-axis magnetometer, accelerometer, ambient light sensor, NFC, and GPS. WiDi is also included.
David Pierce is the author of the U925T review from The Verge and opens with a gallery of the unit itself. There is a great shot that shows us a detailed view of the sliding mechanism which we haven't seen much of prior: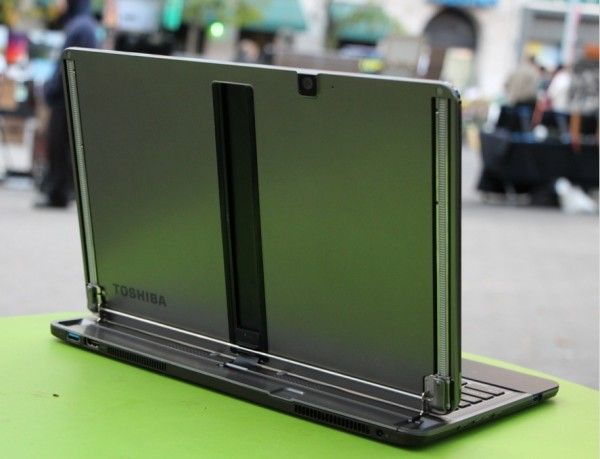 You can see that the sliding action happens thanks to two distinct elements, tilting hinges and sliding tracks — unlike the Sony Vaio Duo 11 Ultrabook convertible slider which combines the slide and tilt motion into a single mechanism. The advantage of Toshiba's approach on the U925T is that you can independently adjust the screen tilt. The tradeoff is that the conversion is a little bit less elegant, requiring the user to slide the screen away from the keyboard and then tilt it up.
We can also see the LCD connector which runs along the black track at the back-center of the display. A metal crossbeam — that looks a bit flimsy — holds the connector to prevent tugging on the ribbon cable as the display is slid open or closed.
Pierce derides the look of the U925T, noting that the mechanisms on the back are an eyesore, "It's like the cover's been removed so you can see the device's inner workings, except there is no cover." The hinges sound like they get the job done, but apparently when the screen is propped up it wobbles when you make use of the touchscreen — something I hope doesn't detract from the user experience. There's really only so much that can be done to avoid that wobble, however it sounds like Toshiba carefully tuned the hinge strength on the U925T which is something we always appreciate, "the base, by the way, sticks in place thanks to its rubbery feet — you can move the screen without really needing to hold the base, which is nice," writes Pierce.
As our very own Chippy will tell you, Pierce says that the 1.5kg weight and convertible thickness is just too heavy for lengthy in-hand use:
At 3.2 pounds the U925t is a fairly light laptop, and slides nicely into a backpack, but it's way too heavy to hold in tablet mode for any length of time. The only way you're ever going to use the U925t as a tablet is sitting down, with the device on your lap — and for that it's actually pretty nice to be able to slide away the keyboard. The whole setup is 0.8 inches thick when it's closed – again pretty svelte for a notebook, and positively massive for a tablet. Make no mistake: this device is a laptop, through and through.
Like many other Ultrabook convertibles, the Toshiba U925T / U920T is equipped with an IPS display which is not something that you'll often find on other laptops, unless you're shelling out for a premium screen. IPS displays are featured on almost every consumer tablet these days and help to bolster colors and viewing angles which are more important for an Ultrabook convertible because of the wider use-cases. Pierce says that the display "has excellent color reproduction, so the multi-colored Start screen is shown in all its glory. Blacks do look a little gray, and there's not quite as much contrast as I'd like, but things still look good. Viewing angles are stellar, with almost no discoloration even if you're looking from an extreme angle." He says that the touchscreen is also extremely responsive on the U925T. The 1366×768 resolution is sure to turn off some resolution junkies — I'd definitely be hooking up to a big monitor through HDMI for anything but mobile work!
Pierce seems to be quite pleased with Windows 8 on the U925T Ultrabook convertible saying that "apps launch and respond quickly, multitasking is really fluid, and there's virtually no lag anywhere in the system. It's a great example of what Windows 8 can be."
However, old habits die hard; it would seem that bloatware will haunt us until the day we die:
The differences between Windows 7 and 8 can be stark, but the U925t's huge bloatware load should make many Windows 7 users feel right at home. There's a huge section of apps on the Start screen labeled "Toshiba Apps," with a smattering of first- and third-party apps. You get Ebay, iHeartRadio, Netflix, Encyclopedia Britannica (which apparently still exists), along with Toshiba's Media Player and Book Place apps. There's also a Toshiba Central app, which is actually really clever: it's a centralized resource for all the information about your computer, and for links and guides for the machine. Any time you need your serial number or have a support question, just launch the app — it's a great idea, and I hope other manufacturers make similar software.
For those concerned about noise, you may want to stay away from the U925T. Pierce describes the fan as being "like a jet engine's been turned on" though he says that it is quiet during normal use until you get into the heavy-duty graphical stuff.
For battery life, Pierce says the U925T Ultrabook convertible managed around 5 hours of battery life which is decent and just manages to hit Intel's minimum battery life criteria for an Ultrabook. One major issue related to battery life is that it is apparently quite easy for the U925T to turn on from accidental presses while it's in your bag. It shouldn't be all that hard to design a power button that isn't easily activated by accident; seems Toshiba may have overlooked this one.
Pierce gives the U925T / U920 a 6.5 in his review and points to the display, convertibility, and ports as pros while design, heat/noise, poor trackpad, and bloatware are cons.
There's plenty more detail and photos in Pierce's review over at The Verge, go check it out!
[embedsite height=385px src=http://ultrabooknews.com/pullin/productdetails-pullin-generic.php?id=957]