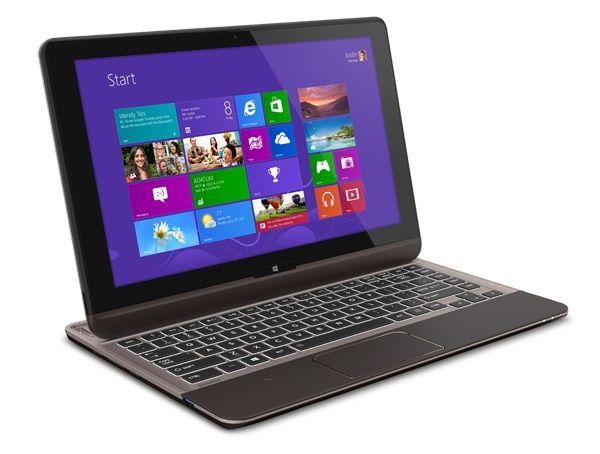 Toshiba has made available their only Windows 8 touchscreen Ultrabook, the Toshiba Satellite U925T. This is a hybrid slider which also goes by the name U920T depending upon the region. Chippy got a great hands on of the U925T back at IDF 2012 in September and the design seems unchanged since then. This is one of a few hybrid Ultrabooks currently shipping with NFC.
The Toshiba Satellite U925T is now available from the company at $1149. This is the U925T-S2300 model which comes with a Core i5-3317U professor, 4GB of 1600MHz RAM, and a 128GB SSD. For ports you'll find a full SD slot, 2x USB 3.0, full HDMI, and 3.5mm headphone/mic combo port. There's also a good set of sensors inside: 3-axis gyroscope, 3-axis magnetometer, accelerometer, ambient light sensor, and GPS. WiDi is also onboard. The weight is around 1.5kg which is on the heavy end of the spectrum (relative to other Ultrabooks) for a device with a 12.5″ screen. This is expected, of course, because of the sliding mechanism.
[embedsite height="310px" src=http://ultrabooknews.com/pullin/productdetails-pullin-generic.php?id=957]
Here's a fresh gallery of the U925T:
$1149 is a bit pricey next to some other devices like the MSI S20 slider which features a full HD screen next to the U925T's 1366×768 12.5″  display. Though it isn't full HD, the U925T's panel is IPS which should give it better viewing angles and colors than a standard screen. The U925T scores some points for retaining a trackpad while others, like the Sony Duo 11, rely on other solutions for mouse input. Furthermore the hybrid slider comes with NFC standard which can be used for quick checkouts and other wireless functionality as Chippy demos here:
The  U925T / U920T is available for order now from Toshiba, but Toshiba's site currently says the unit  "usually ships in 4-5 weeks" (you can find the U925T / U920T a bit cheaper on Amazon, and it's possible that The Big A will ship sooner than Toshiba Direct).