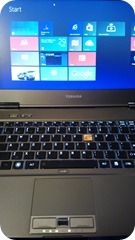 After spending a good two months with Windows 8 on the developer preview Touch Ultrabook I decided I was 100% happy with Windows 8 and that there was no reason not to upgrade the Toshiba Z830, a first generation Ultrabook. The upgrade was completed fairly smoothly although extra drivers, as always, are going to mean a bit of searching and a bit of luck with the installation order.
Toshiba Z830 full review here.
I chose to upgrade the Toshiba Z830 with a DVD drive and cabled Ethernet…
I took the original SSD, backed it up and deleted all partitions using the advanced options in the install menu of version en_windows_8_x64_dvd_915440
Install was error-free and after reboot it was comforting to see the correct screen resolution, working mousepad and Internet. Unfortunately on removing the Ethernet cable the WiFi wasn't working and the keyboard shortcut to turn it on wasn't working.
Toshiba provide a set of Windows 8 drivers for this model, the Z830- S8301. [Link]
Installed, in this order, were, Toshiba Service Station 2.4.4, Toshiba Function Key Utility, Toshiba System Driver, TVAp (Value Added package) and Toshiba System Driver. Wireless LAN indicator.
The WiFi function key was not working after the driver and app installs but fortunately, after running Window 8 Wifi 'Troubleshoot Problems' it offered to turn the Wifi on.
The Synaptics touchpad driver appears to work although without slide-in gestures.
I've been using the Z830 as my main laptop today and doing a few tests with power drain. In a series of WiFi-on browsing tests I could not measure any improvement in efficiency both in Desktop and Modern environments.
Low-end idle drain rates matched Windows 7
Cinebench results are exactly as with Windows 7 as are disk speeds.
Stability has been 100% today. Heat and noise as before. Only the screen brightness and WiFi toggle FN-keys don't seen to be working, despite the presence of a Toshiba Fn-Key Application.
101GB free 128GB after install.
Boot time about 12 seconds from cold to login. Resume time almost instant.
Summary so far…
The Toshiba Z830 certainly hasn't gained or lost any performance through the upgrade although the effect of having a clean system is helping. Process number is down to 60 compared to 95 with the Toshiba build.
What you are getting is the Modern UI. Don't think it's irrelevant for desktop workers because in theory, it's an efficient place to work. Apps have access to power control features that can help improve battery life. The sharing subsystem is becoming more useful as apps take advantage of it.
I've found myself using SkyDrive and enjoying the cloud-based synchronization of settings. On entering my Microsoft Live ID and password a lot of my settings were automatically enabled.
I don't intend to list all Windows 8 features but here's a list to consider. Of course I'll update this post if they're
1) Much faster boot and resume
2) Sharing and notifications subsystem in Metro
3) Win 8 gives you a 'snacking' layer of quick to use, low cost, low-power apps
4) Win 8 finally integrates sensors in a sensible way
5) Win 8 introduces a raft of low-power and always-on features including an iPad-like scheduled approach to background app updates and network access in Metro
6) Win 8 has the highest dynamic range of any OS yet. From simple low-power tweet notifications or (on some platforms) near-zero-power music payback to video editing, cad and high-end gaming.
7) Win 8 improves on some desktop features. E.g. Monitoring is improved. Even the status reports on file transfers!
8) Win 8 is the only desktop OS that will allow multi-day always-on with i86 processors.(Clover Trail in 2012, Haswell in 2013)
9) System settings and passwords cloud sync (Some are scared by this – I understand)
10) Better support for 3G and metered connections. Airplane mode helps turn radios off for power saving.
11) The first desktop OS that has an integrated finger-driven layer
12) The fun of an app store (coming…)
13) Windows FIle History archiving and Backup. Works easily enough for anyone to use it.
If you've got Windows 8 upgrade experiences to share, please let us know below.