All the teams have submitted their code for the Ultimate Coder Ultrabook Challenge, all the judges have set up their Ultrabooks with the same OS and drivers and we're well into the process of final judging. I've tested all the apps and it's now time to review them. Scoring will happen over the next week and then, we'll have a winner!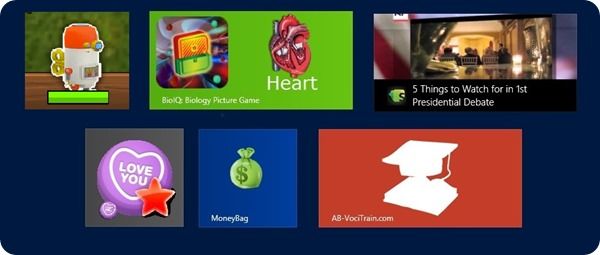 The teams have produced working apps in around 6 weeks which is an amazing feat. Even the smallest teams, or should we say one-man-bands, have achieved that so congrats is due to them all. Everyone taking part in the competition has learnt something and I hope the readers have too, especially if you're a developer. I read that 20% of the 1 billion Windows PCs in use today could be upgraded to Window 8 within a year.  Each one of those will have a store and a new 'layer' on which to deliver apps. Not only that but the Intel Ultrabook project is pushing for touch and sensors to go into new Ultrabooks which, when combined with the finger-friendly, battery power friendly 'Metro' Win 8 layer, makes it an exciting platform. It doesn't stop there either because Windows 8 launches on those consumer-focused Atom tablets in October too. Has there ever been such a big, new and open opportunity for developers?
This competition looks at 'showcasing' an Ultrabook. A re-cap: We're looking for apps that highlight the features of an Ultrabook. Use of processing power, touch and sensors, graphics and efficiency will be taken into account along with a second line of scoring – how did the teams communicate their development process? [My weekly review posts available here with links to all posts]*-
Final testing of apps will be completed within 24hrs of this post but for now, in order of testing, here are my notes. Note that I refer to the "Modern" Windows 8 touch interface as Metro throughout.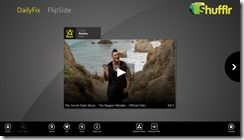 The Shufflr entry, we have to be aware, is an enhancement of an existing video player application that surfaces videos based on your social connections. They've used a number of features of the Ultrabook to enhance the application. Firstly they've re-arranged some of the controls around the common touch hot-spots in the screen.  Secondly they've tapped into the location system on Windows 8 and used that to tailor content. Finally they've added a 'tilt' and 'shake' feature which, although not ideal for an Ultrabook, is perfect for an ultraslate! I liked the introduction screen that highlights the main touch gestures because there's no common standard for gestures (don't get me started on that topic!) so users need a little helping hand.  Please though Shufflr, don't ask for permission to post to my timeline or, as in the case of Twitter, change my profile when all you need is read permissions. For that reason I didn't connect my social networks. Shufflr could provide a social network update feature using Metro sharing subsystem. Good work on the UI and features though.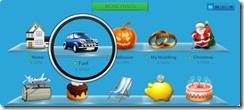 MoneyBags has highlighted an issue to me. When a desktop app is re-designed for touch it's great news but when the app sits within the desktop environment it looses many of the Windows 8 features that have been built to enhance that touch experience. Even worse, users that get used to Metro gestures, sharing, menus and settings will hit usability issues. Finally, by putting a touch-enabled app in the desktop space you're not taking advantage of some of the power-saving features in Metro. MoneyBags itself is an impressive app with a clean and usable UI, lots of useful features and in its favour here, it's location enabled.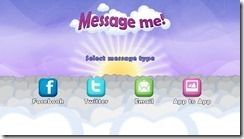 Love Hearts set out with a clean sheet to do exactly what was asked of them. They created a fun social experience that integrated lots of Ultrabook features.  The app itself doesn't interest me as an end user but that's not the point here. I was able to get a little compass demo going (showing me where to go for love) and use the touchscreen to play a mini game. The applications misses out on the integrated sharing system in Metro and although I know there's NFC capability somewhere in the app, I haven't found it yet. In fact, I probably haven't unravelled many of the easter-eggs in the app yet which is a little problem because it means it's not an instantly good demo of the Ultrabook. I found a few bugs and got totally annoyed by the background music but considering this was written from scratch, albeit based on a pre-existing idea it's an impressive offering.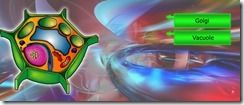 BioIQ is an excellent educational game that teaches biology. There's colour and intuitiveness in the game and even a little addictiveness but I can't find any showcasing of sensor features other than touch which puts the app at a slight disadvantage. As I mentioned in last weeks post, these sort of apps might be at a disadvantage as they're more serious but I think there was scope for a little fun sensor action in there. It's an easy-to-access Metro app though so it's wrapped in the Metro standard gestures. Swiping up brings you to a menu and because it's a Metro app, it's likely (not always true though) to be more power efficient.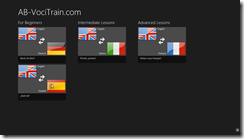 ABVoicetrain is another app that comes from the educational field and like BioIQ there isn't much scope for huge sensor action. It doesn't capitalise on he CPU power available either. It's a neat example of a pure HTML5 app though and it sits well in Metro. I noted that there was no 'help' or intro on first run which could have improved the experience and I accidentally deleted a bunch of lessons at some point. Andreas has worked completely as a one-man band on this app though so he's done a great job in six weeks.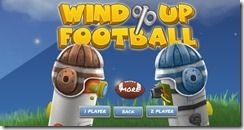 Wind Up Football has been difficult to test; My wife thinks I'm not working! It's a windowed or full-screen desktop app which I have to say, is mad! Excuse me as I play some more…. One thing I didn't like about this game as I held the Ultrabook with two hands is that it's not mobile. However one of the main features is the dual player mode. Ultrabook screens are big enough and multi-touch enough to do this but the best platform would be a 13.3" ultraslate. Soma Games definitely use a large amount of the CPU and GPU power for this game as the fan game on quickly! As a 'desktop' game WUF misses out on those Metro gestures and features I was talking about. At one point the game hung and I tried swiping down from the top to close it! I couldn't detect any use of accelerometer or gyroscope. The background music is still in my head as I write this.
Summary – It appears that games, or game-like features are bringing the best out of the Ultrabook platform and where touch is concerned I'm learning rapidly that it needs to be contained within Metro for the most consistent experience. I wish there was more use of the sharing platform too because it would be fun to take snapshots with the camera, apply some wobble-shake or gyro-drip and then send it out to friends with a side-swipe (and a branded watermark for marketing purposes of course!) To keep everything in perspective though we have to consider the timescales; everyone has completed an amazing task in a development environment where everyone is learning right now. These apps are great teasers of what's going to come in the future on Ultrabooks.
Stay tuned to see who's won!
Full disclosure – We are being compensated for advertising related to the Ultimate Coder Ultrabook Challenge and to attend an Intel event. We have committed to posting at least once per week on this subject and judging the final applications. All posts are 100% written and edited by Ultrabooknews.
All four judges are posting on these sites:
Helena Stone (Chip Chick) , Chris Maunder (CodeProject), John Rettinger (TechnoBuffalo), Steve Paine (Ultrabooknews)