Late last week I added new features to the product database. You can now filter the database in real-time by selecting a form factor, touchscreen technology or by simply typing in the search field. Today I've added the comparison feature.

Not only does the comparison page allow you to view much more information in-line, it allows you to sort more fields than in the normal database overview. In addition, it completes a short process you can use to drill down into Ultrabooks like never before.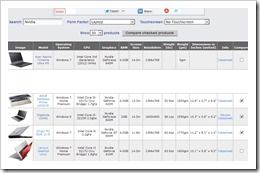 Using the interactive Ultrabook overview you can click on columns (click again to reverse the sort) and type in the search field. E.g. type Nvidia or Toshiba. Click on the select box and finally, bring up the comparison window using 'Compare checked products.'
We've got a more advanced method too. On the Ultrabook selector page (it's messy, but very functional!) you can narrow-down choices by clicking multiple selection boxes and hitting the search button.  At the bottom of the page you'll see the results and a link that says 'Compare these results interactively'. Click that link to populate the compare window where you can see more info and sort to your hearts content.
Two things you need to note. 1) We don't have all versions of a device in the database, there are simply too many around the world. 2) We don't carry live pricing information on the comparison pages….but we're working on it. For devices available at Amazon.com, Amazon.co.uk and Amazon.de we carry pricing on the detailed product page.
All comparison pages contain fixed URLs that return you to the same selection. Feel free to tweet, Facebook, Plus or Email your toplist. The links are at the top.
Post your top three below, and reasons why!
Finally, be aware that we like your feedback to steer and prioritize improvements.