Traffic levels here are up 2X. Trends are up 2X, ad rates are up and if the rate of increase continues, Ultrabooks could be more of a trend than notebooks before the end of the year.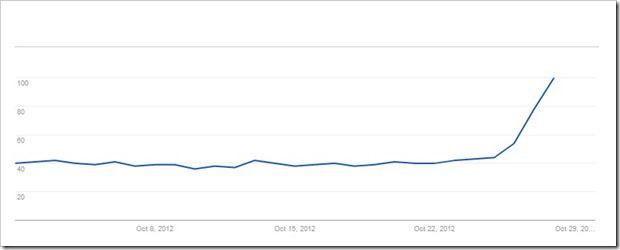 As early as Saturday October 20th, days before the launch of Windows 8, traffic started to pick up here. By Windows 8 launch day traffic levels had risen to double normal traffic levels and then on Sunday night I saw something happen that I haven't seen since, funnily enough, Daniel Craig starred in his first James Bond film and promoted a Sony UMPC. It's not Daniel Craig this time round though, it's the Ultrabook Convertible.
On Saturday night at just after midnight, which is around prime-time USA, I saw a big peak in search traffic from the USA. At the same time on Sunday, search traffic from USA was up 500% over normal.  The keyword? Ultrabook Convertible. It turns out that Intel ran Ultrabook Convertible ads at the weekend. Most search traffic for the "ultrabook convertible" came from California.

"Ultrabook Convertible" keyword searches hitting Ultrabooknews.com from the USA at the weekend.
That's not all. Starting from Thursday, Windows 8 launch day, the rate at which ads were being clicked went up showing better relevance. The dollar rates for those ads also went up and that has stayed high since then, peaking, fortunately for us, on Sunday. There are a ton of Ultrabook ad campaigns out there right now.
Did you see the ad? Let us know what you thought below.
We've also seen background traffic increasing. We're up about 2X in terms of traffic in 7 days and a cross-check with our search positioning shows us we haven't moved much although we were a bit ahead of the curve when we wrote about the Ultrabook Convertible ads earlier this week.  We didn't get any additional referrals during the period so it all ads up to one thing…a huge increase in the audience for Ultrabooks.
Windows 8 and advertising campaigns have opened a lot of eyes. But there's a long way to go and importantly, does it mean sales?
83 Ultrabooks in our database here
Considering reviews and availability are still to come in this market it's not surprising we haven't seen any increase in sales through our Amazon affiliate program yet. It was a good indicator of movement in June and a flat-line in July, Aug and Sept so there's a message there to manufacturers – get those touch Ultrabooks out to reviewers, get the devices shipping otherwise new eyes could go elsewhere. There's certainly no shortage of other tech distractions around right now. Nexus, Chromebook, Surface, iPad, Windows 8 Phone to name just a few.
One final cross-check confirms everything I'm seeing. Google Trends. Ben wrote about this yesterday but missed the update for the weekend due to the lag on the report. Today's chart update reveals all.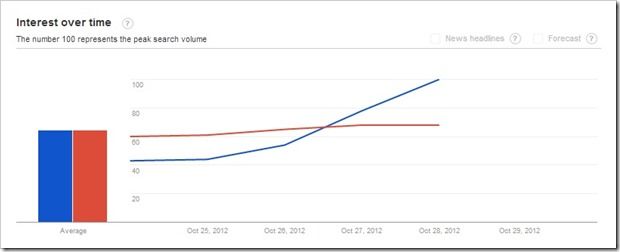 The 30-day Ultrabook vs Netbook trend graph (above and live here) certainly has hockey-stick qualities but it's early days. These levels needs to be 5-7x what they are to get close to 50% of laptop and notebook interest but if this rate continues, there will be more interest in Ultrabooks than in 'notebooks' before Christmas.
The netbook comparison in the above graph is an interesting one because it's a keyword that has been flat since May 2011 and is down 40% from peaks of Dec 2010 when netbooks were selling around 40 million per year.  The latest graph value at 28th October matches netbook 'interest' from May 2011. 60% of netbook highs.
It's too early to draw sales conclusions but IF products reach the market in the next week, IF early reviews are good, IF prices are perceived to be correct, I expect to see sales take-off. We're not talking atmospheric levels but we are talking about very important momentum and very important sales numbers for manufacturers. Possibly enough for them to meet their targets, refine their product positioning, prices and features and to give everyone the important confidence boost needed.
Keep an eye on that graph over the next week. I expect it to rise again tomorrow and then flatten for the week based on what we're seeing here. We'll let you know if affiliate sales through our Ultrabook database take off too because that's the all-important final link in the chain.
I haven't seen any indication of new search traffic coming in as a result of advertising so maybe Intel and partners have reserved it for weekend prime-time again. Watch out for the Skyfall premier in the USA too. Sony have product placements in that again and maybe Intel and Sony are running Vaio Duo 11 ads alongside it. It would certainly make sense to do so.
Finally, welcome to all new visitors. Feel free to comment on old posts or to put your questions in the Ultrabook forum.