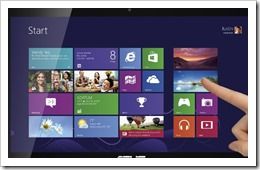 Updating…  Thanks for watching! We've stopped updating this post now. A lot happened so enjoy the read…
We're expecting a lot to happen over the next 48hrs and to keep you updated on the latest from Ultrabook-land, this post will summaries events as they happen. You're welcome to add news links in the comments below.
It's 0550 in San Francisco as we kick of this blog and the official Microsoft event gets under way at 0815 but there's already things happening around the world. We're not at a launch event but will summarise that for you below along with other Ultrabook-related news items.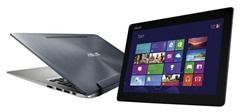 The ASUS Transformer Book, TX300CA, went live at Amazon.de this morning with a price of €1399 for the Core i5 version. No discreet graphics in the keyboard but it includes the 128GB SSD and 500GB drive, 4GB RAM. The complete package weighs 1.9KG / 4.2lb. Total battery capacity is, however, an impressive 65Wh. Our database now updated.
06:08: The MSI S20 is official. There's  price and availability now at Notebookitalia
06:13: Amazon.com's Hot New Releases page for Ultrabooks has been updated. TaiChi is #1 [Aff. link] It's the #3 best seller at the moment too!
06:18: Dell have just told us that their WiGig docking station (For the 6430u) will be available at the beginning of 2013. Details of the product unknown at this stage.
06:47: We've just added the HP Envy Touchsmart 4t to the database. Laptopmag have a review. All details in the database.
06:52: Gigabyte has (re) announced their Ultrabooks. We already have them in the database… X11 wasn't mentioned by PC World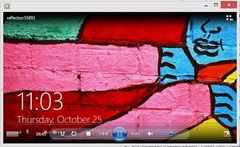 06:59: Microsoft will be Live Streaming the keynote of the all-day event here.
Gizmodo, a site that likes to be controversial, have their Windows 8 Review up. "Not Quite Incredible" they say.
Vizio have launched their updated Ultrabooks with Windows 8.  No other changes as far as we can see.
Welcome to all our readers. 61 of you on the site right now. Most of you looking at the Transformer Book!
As we find important product-related links, we add them to the database. You can find all the latest product-related links here from around the net.
07:20 The event has started!
We're getting an update on the state of play…
Windows 7 sold 670 million licenses!
SkyDrive 11 million photos. 2 Petabytes of data added per month
.
.
If you're not watching the stream you haven't missed much yet. Big promo job going on with Win 8 now. Touch, Store, RT etc. No news yet…
1000 new PCs have been certified for Windows 8. Starting under $300. Ultrabooks and touch Ultrabooks get a mention. Intel Clover Trail gets a shout too. AMD must be feeling pissed!
08:31 (Yes, apparently we got the Pacific Time wrong!!)
Grand opening of Windows Store announced.
1000's of new apps. Hundreds of new apps every day. Rate increasing.
"More apps at opening than any competing app store had at it's opening"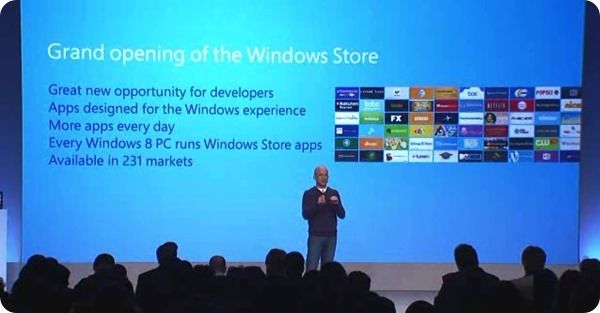 Microsoft is promoting RT right now.
420 million pre-existing peripheral devices supported on RT. Wow!
Meanwhile on YouTube…
Balmer in a video with Reuters
A Microsoft Windows 8 promo video just went live.
Lenovo Carbon X1 gets a shout at keynote: 33% faster booting with Windows 8 (compared to 7) 40+% less memory usage.
Clover Trail get's highlighted as being 'Connected Standby' capable. 10hrs from a 600gm tablet.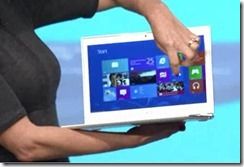 Acer S7 demo at the keynote is used to demo 1 second resume from standby.
So far we haven't seen anything but Intel-based Windows 8 devices demonstrated at the Windows 8 keynote…
08:55 Stock-shift alert! Dell have just activated a 5hr sale on Windows 7 laptops including the Inspiron 14z Ultrabook at $599. It's only Sandy Bridge though.
08:57: Balmer is on stage at the Windows 8 keynote..
"Windows 8 shatters perceptions of what a PC really is"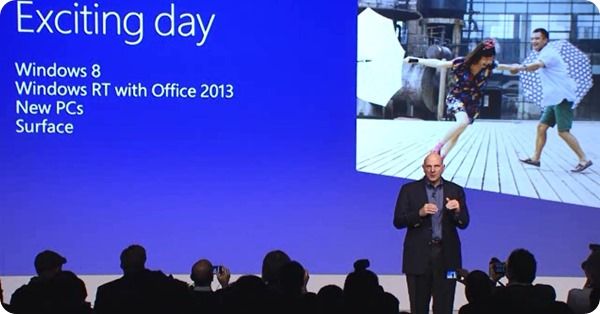 09:00 Intel have just published a blog relating to Windows 8.  Ultrabooks feature heavily.
Meanwhile, Balmer entertains on stage…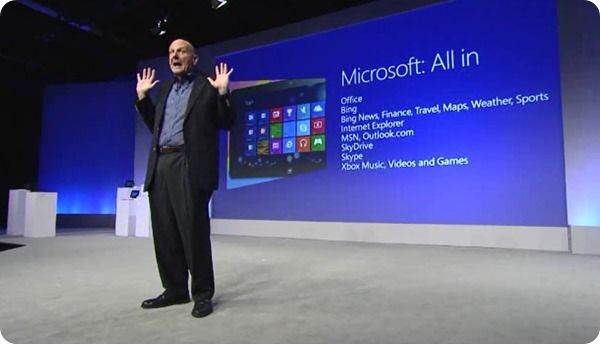 09:09 News: Real Networks are alive! Real Player Express just announced for Windows 8
Balmer speaks of the upgrade opportunity. "670 million Windows PCs…that's a very large number, even in the world of large numbers"
It looks like the keynote is over. Not sure if the journos will be rushing to get hands-on with it though!
09:15 Webcast for the Microsoft Surface is in 75 minutes (10:30 PT)
[Chippy taking a 60 minute break]
10:30 The Surface / Windows RT live stream is up.
The Surface video is pretty cool.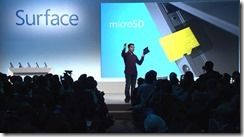 MS reveals the Micro SD card slot behind the stand…
11:07: The Surface demo continues, and it's quite impressive! No mention of Surface Pro though and I don't expect it to be mentioned here. This hour is sponsored by RT!
20:12. That's the Surface Keynote done. The feeling after that is that it might have taken some of the wind from Windows 8?
This post will stay open and active over the next 24hrs at least as we track the market for anything new. Next up on the site – Dell XPS 12 Review Roundup.
1:38pm: Notebookitalia report prices for the ATIV SmartPC and SmartPC Pro at 699 and 1499. Link
We just threw together a database showing all Windows 8 Touch PCs, regardless of x86 CPU. Maybe it helps some people choose between low and high-end devices.
3:16pm: We've just published a review round-up for the Dell XPS 12
Here's an interesting report I hadn't seen until now. "GBI Research expects the global Ultrabooks market to reach $75.8 billion in revenue in 2016, from just $1.3 billion in 2011"
Windows 8 Launch Event Reports
There's a huge amount of comment out there following the event today. Here's a few worth reading.
GigaOm – The message of Microsoft Windows 8: "Reimagined" diversity
Laptopmag – Where Are the Apps? Windows 8 Launch Event Disappoints
ArsTechnica – Hands-on, at last: Microsoft formally debuts Windows 8 and Surface
and..
Microsoft – Windows 8 Arrives
[Chippy heading to bed]
4:39pm Engadget gets hands-on with MSI S20 Slidebook. Link
5:22pm Above is now with video.
Friday 02:19:  Amazon now have official availability for many of the new Ultrabooks and it's disappointing. Most that we've seen are 'temporarily out of stock.' The Toshiba U925t is the first we've seen to get a slight discount though. The slider can be bought for $1196.36 [Aff. Link]
06:53 We've just added the Panasonic AX to the database.
Intel have launched a set of new Ultrabook promo videos.
1:01pm: We've published a few more snippets on the MSI S20. It appears their PR teams have been out and about!
And that's it for this updating blog.
Windows 8 is here and Ultrabooks got some great coverage. It's been a busy few days but it's been worth it. We've seen a huge number of new visitors here (hi!) and have just about caught up with all the products. We've got a few more to put in later this week but our #1 task right now is to chase up all the review samples!
Don't forget that the Ultrabooknews Forum is open and I'm checking in regularly to answer your questions. Hope to see you there.
Chippy and Ben