iHS, owner of iSuppli seems to find it funny that they've had to slash their estimations for Ultrabook sales by 50%. "Dude, You're Not Getting an Ultrabook" does a great job at getting the media to echo the story but did iHS cock-up or did the market change dramatically in the last few months? We're a month away from Windows 8, prices have dropped considerably and the Ultrabook looks well-positioned to take a large percentage of the laptop sales market in Q4. Was the back-to-school period disappointing or is the laptop market overall going to suffer in Q4 and take Ultrabooks with it? This is no laughing matter.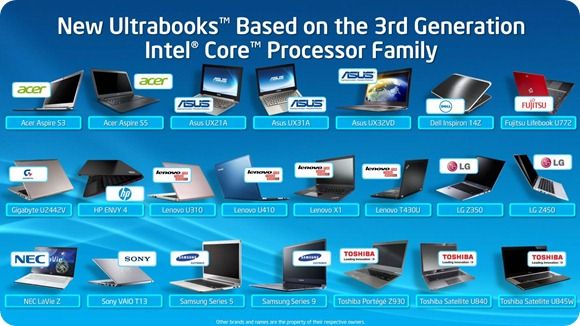 iHS have just issued a new report on ultrathins and Ultrabooks and are highlighting lowered predictions for 2012 and beyond. Around 5 million, half of the total 2012 sales, are predicted to start from now. The full report isn't available for free so we (and others) can only guess the reasons; Many articles this morning point to Apple being the main one. Tablets and MBAs have changed the game and the Ultrabook product, pricing or marketing isn't making any headway.
Buzz and Excitement
Craig Stice of iHS points to the lack of buzz and excitement around Ultrabooks and he's right. It may surprise you that we're not supporting the Ultrabook in this case but for the reason, take a look at the market today.
One one side you have the dynamic, mobile, sensor-packed, always-on, touch-enabled, photo-capable, app-rich point-of-sale converged devices that are smartphones and tablets. This technology is very simply 'lock-in' and buying a laptop today is still like a new father having to choose the station-wagon car. It's the practical, productive choice. In Feb 2010 I wrote about the 'lock-in' opportunity for smart books using these features but as-yet, the ARM-based app ecosystems haven't enriched enough to support that model. Laptops haven't either. Apart from style, a feature that becomes less important in tough economic times, Ultrabooks are still Windows 7 laptops. Boooooring!
Ultrabooks in Q4
There's one thing that many agree on – Q4 will be different and in my opinion we'll effectively see the first true smartbooks hitting the market. Some may be convertible. Some may not run Windows 8 desktop. Some will be netbook-like in their power and price. Some will be Ultrabooks. There are multiple opportunities (for the first time in many years) for a device to finally get buzz. Expectations of quality and design have been set extremely high in the last few years thanks to Apple so the chances of anything getting 'buzz' for more than 24 hours these days is minimal but the only possibility for a Windows-based device is to give it what consumers might find exciting. Consumers are starting to lead laptop sales and that's why touch, sensors, always-on, app stores and media point-of-sale is coming. About time.
Our Q3
Looking back at Q2-Q3 on Ultrabooknews highlights a number of points.
The only devices to get buzz were upcoming  Q4 devices. Asus Tai Chi. Lenovo Yoga. Microsoft Surface. ASUS Transformer Book. The ASUS Zenbook Prime UX32VD had its day too as a gaming-capable ultrabook with an HD screen.  Other Ultrabooks were popular simply because they were cheap.
We're the biggest Ultrabook website and, according to our ad agency, we have reasonable clout in this segment which means we can look at our affiliate sales numbers and get some idea of the market. June and July were good. August and Sept were disappointing. We didn't see back to school purchases go through. The next three weeks are going to be tough too.
In a recent survey, the most popular reason for waiting to buy an Ultrabook was price, followed by touch-enabled models. 60% of our readers are in those two categories. Approx 40% are waiting for Haswell or Windows 8. Price is a major issue and will continue to be. Cheaper touch-enabled models could be popular when they start selling later this month.
Negative media hasn't helped. I've been an online reporter since 2006 and have always focused on a more pragmatic side of the market but I know there are products out there that command a lot of readers and a lot of ad dollars. Online journalism is hard and SEO-experts now drive editors in order to keep businesses afloat. There's very little room for pragmatism and that results in the swarming and polarised effect we see and very little room for new products; even less room for struggling ones.
In summary, we agree that the 2012 market could underperform in line with what iHS says. Eight weeks of 2012 sales won't be enough in this tough economic climate although there is a chance that a few devices will get buzz. Interestingly, some of the best press for Ultrabooks could come out of the convertible netbook and tablet sector where Windows 8 products will be a little more consumer focused in terms of marketing, style and price and that could help the whole Windows 8 category. Windows 8 confidence will be an important foundation for the success of Ultrabooks so maybe that's the springboard everyone needs to watch. We'll see it's affect during the post CES analysis in Jan 2013