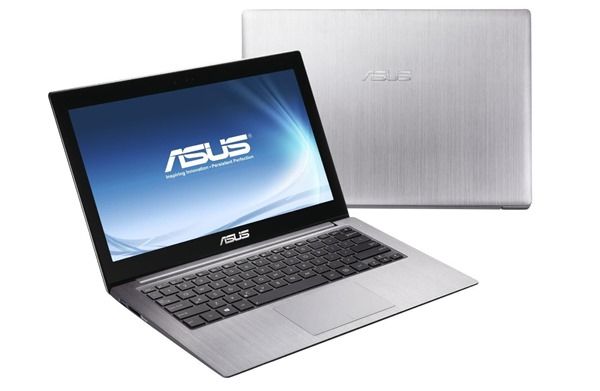 A new AMD-based ultralight has surfaced with Ultrabook looks, the ASUS Vivotab brand and a very interesting CPU and GPU combination. The ASUS Vivobook U38DT is available for pre-order in Germany.
The original retailer has now updated their sales page to show the ASUS U38N with APU-based HD 7620G graphics.
There's no official information out there from ASUS right now but we've tracked down a full set of specifications for the ASUS Vivobook U38DT which include a backlit keyboard, 1.6KG weight and the AMD A8-4555M / Radeon HD 8550M HD combo that includes 4 cores that can Turbo up to 2.4Ghz. The 1366×768 screen should be well-driven by the Radeon HD 8550M. The problem is, we don't have any details on that GPU yet! We're assuming it's the latest Oland GPU.
Update: A second model has appeared at our original source: ASUS Vivobook U38N, the same that is appearing in other regions.   This has the APU-based graphics – Radeon HD 7620G. We've just had a quick chat with Brad at Liliputing and he's convinced us that this is a discreet graphics version of the Vivobook U38N.
Apart from the interesting CPU/GPU you've got a reasonable 1.6KG weight. We calculate that the battery is a 47Wh unit given the mAh specs available but that could be a little on the low side for multi-hour gaming where this baby is likely to reach to 40W drain rate under heavy gaming.
The price indicates that this really is offering a new level of GPU, and even CPU power.  800 Euro pre-order price equates to a pre-tax price of about US 855 dollars.
Update: That price seems to be moving around a bit at some of the sources we're looking at.
We'll keep an eye out for information for you and add anything interesting that we find to the database. The ASUS Vivobook U38DT specs are already in.
Hat-tip Fudzilla
Source: U38DT appears at this retailer.