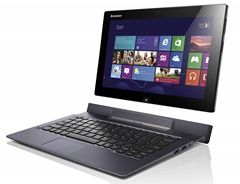 Early reviews of CloverTrail devices are positive and that's making investors and analysts sit up and take note. Deutsche Bank have just issued a note to their customers saying some very positive things about the platform and notes that it is competitive against ARM-based solutions.
The research note, sent out on the 26th Nov, highlights some of the devices in the market now and mentions performance across a range of system benchmarks. DB won't have done their own in-house analysis but they're clearly keeping a close eye on reports coming out of the media.
We view these initial Clover Trail based systems as providing positive evidence
that Intel can indeed compete on all applicable metrics in the tablet market
(performance, power, price etc.).  While tablet/ARM cannibalization of PCs/x86
is likely to remain an investor sentiment headwind for Intel, data such as this
should begin to refute this concern.
Deutsche Bank highlights battery life in their note and calls it "comparable-to-superior inch to ARM-based Windows RT devices running on Tegra 3.
CloverTrail is the first  Windows 8 tablet-focused processing platform from Intel. It's also the first Windows-capable platform to implement the new low-power sleep states (S0ix) and as such, is the only x86 platform that can push Windows 8 to smartphone-like always-on states. In addition to that it has a new GPU, Turbo boost and new camera and video processing hardware. In short, the combination of CloverTrail and Windows 8 is  nothing like the Atom/Windows experience we've had in the past.
Deutche Bank retains a BUY rating on Intel stock with a target price of $28
You'll find a bunch of reviews of the Samsung ATIV SmartPC 500T in our database, check them out here. We're working hard to bring you an in-depth look at a CloverTrail tablet and should have something for you next week. You can view all the CloverTrail devices currently in our database, here or here for a continuously updating list.
Source: Deutche Bank via email.