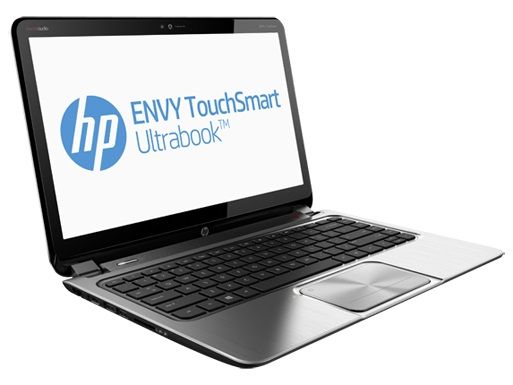 The Verge's Sean Hollister has a review of the new HP Envy 4 TouchSmart Ultrabook. This is essentially the same as the Envy 4 Ultrabook from HP but it runs Windows 8 and includes a touchscreen. The Envy 4 TouchSmart starts at $750 from HP; does Windows 8 and a touchscreen significantly enhanced the experience?
The $750 unit includes an Intel Core i3-3217U processor, 14″ touchscreen display with 1366×768 resolution, 4GB of 1600MHz RAM and 500GB HHD. The port set isn't bad with 2x USB 3.0, 1x USB 2.0, full HDMI, full SD 3.5mm headphone, 3.5mm microphone, and ethernet/LAN (RJ45) port.
For $75 you can upgrade to the Core i5-3317U which includes Turbo Boost for better performance. If it were a $25 or even $50 option, we'd say take the upgrade. At $75 we'd be a bit more hesitant to go from the Core i3 to the Core i5 just for Turbo Boost.
You can also equip the HP Envy 4 TouchSmart with 6GB or 8GB of RAM. The unit can handle up to 16GB, should you choose to toss 2x 8GB sticks in there (you'll have to open the unit the hard way though; there's no quick access hatch for RAM).-
For $20 you can also upgrade to a backlit keyboard.
The top-end configuration (i5, 8GB of RAM, and backlit keyboard) will cost you $944 from HP, unless you want the RAM on one stick, then you're looking at $994.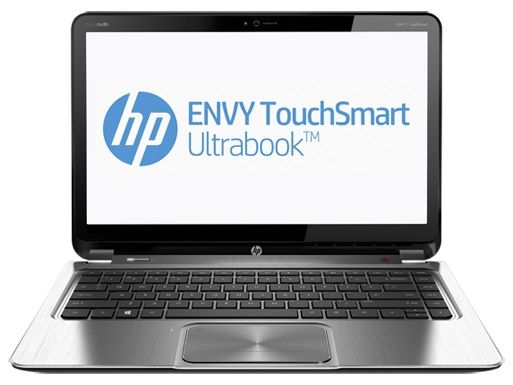 Let's see what The Verge thinks about the unit.
Though I think the HP Envy 4 TouchSmart is one of the better looking Ultrabooks out there, Hollister notes up front:
…here's what you should know: it's a decent design for the price, but it's not quite as pretty or durable as it appears on first blush. The whole palmrest and keyboard deck are a thin brushed aluminum, as is the black lid. The bottom is completely covered in soft-touch rubber, which feels nice and adds a bit of grip. Unlike more expensive ultrabook designs, the chassis isn't totally rigid, and parts will give if you squeeze or press down.
It would seem that the HP Envy 4 TouchSmart has done like the Sony Vaio T13 and stolen its good looks from an older brother — the HP Spectre XT (in the case of the T13 it was the Vaio Z). Unfortunately, as Hollister says, the materials didn't make the transition; the result is an Ultrabook that doesn't feel as nice as it looks.
The touchscreen scores big points with the reviewer who says, "Every time I touched the screen, the capacitive digitizer never missed a beat. Every single Windows 8 gesture worked instantly and flawlessly." The 14″ screen, which has a 1366×768 resolution, didn't match up to the quality of the touchscreen; Hollister says the colors were washed out and the low resolution stood out to him.
Hollister mentions that the boot speeds are very good — as they should be for an Ultrabook — at around 12 seconds. Resuming from sleep was also very fast but he says that resume "…can be erratic at times. I measured as short as 1.2 seconds, and as long as five seconds, before the screen came back to life." Anything but near-instant resume from sleep is something I've not experienced after testing a number of Ultrabooks with both Windows 7 and Windows 8. Perhaps HP has some kinks to yet work out with Windows 8?
As with the Toshiba Satellite U925T Ultrabook convertible, the HP Envy 4 TouchSmart is bloated to the brim with software you likely don't want:
HP's bundled a whole variety of apps on the Envy TouchSmart, including some potentially useful things like Netflix, Kindle, eBay and Skype, but also the typical annoying, reminder-filled trial of Norton Internet Security, a variety of HP apps, and the WildTangent suite of low budget pay-to-play game titles.
When will it end? HP has long been king of bloat. Even their checkout process tries to get you. You'll be offered — I kid you not — 21 different product types (all of which are irrelevant to the actual Ultrabook purchase) before you can put the Envy 4 TouchSmart in your cart on HP.com.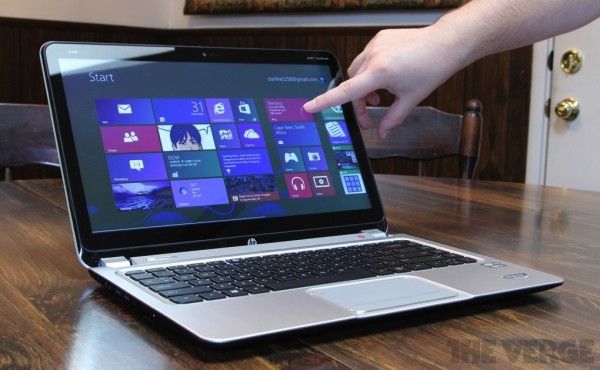 Battery life seems to be a dissapointing low-point for the HP Envy 4 TouchSmart. Ultrabooks are required by Intel to last at least 5 hours, however the company suggests aiming for 7 hours. According to Hollister, HP advertises the unit only lasting "up to 5 hours" and says that in his usage he only saw 4. That won't cut it for some users.
In the end, Hollister gives the HP Envy 4 TouchSmart Ultrabook a 6.6 out of 10, citing "excellent touch experience", "few potential dealbreakers", and "decent array of ports" as pros, with "uninspired design", "ugly screen", and "unimpressive battery life" as cons. He rounds out the review by calling it "…thoroughly average and honestly a little boring," ouch!
There's still more detail to be read from the full review, go check it out if you're interested.
[embedsite height=400px src=http://ultrabooknews.com/pullin/productdetails-pullin-generic.php?id=984]