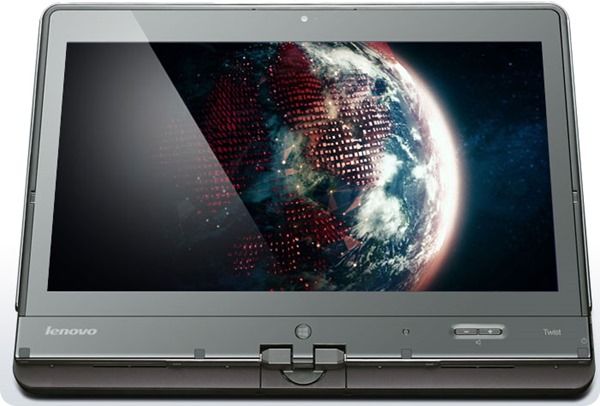 Rising up the charts at Ultrabooknews is the Lenovo Thinkpad Twist S230u. Targeted at business users it's a smart and strong looking convertible touch Ultrabook but the current $746 offer could see it landing in a large number of consumer hands too.
The $746 offer on the Lenovo Twist comes in addition to a reduction over the $899 RRP that we've seen and while the Core i3 CPU might not excite you as much as a Turb-enabled Core i5, don't underestimate the power you've got with the Core i3 over, say, a CloverTrail based Win 8 touchscreen PC.  Of more concern is the 320GB HDD (7200RPM( although don't forget it's supported with a 24 GB Solid State Drive, Serial, with ExpressCache and Diskeeper.
Internal battery capacity is 42Wh bringing you over 4hrs of connected work time and the weight is 1.5KG. That's not class-leading at all but certainly acceptable at this price. WiDi-capable 2×2 Centrino Wifi is on board along with BT 4.0, USB3.0 (x2) a mini Displayport, Gig-E ethernet and mini HDMI. We can't confirm this but we think you'll be able to run two concurrent external screens on this – one of the features of the HD4000 GPU combined with a DisplayPort.
Other features include a mic-array and low-light webcam so evening Skype sessions could get a real boost. There's Gorilla Glass screen protection and fall-detection on the hard drive. The screen is only 1366×768 but IPS wide-angle viewing is a bonus. A full SD card will please many and note that there's a blanking port for a SIM card. Obviously 3G/G versions are coming soon.
If you're set on a Core i5 version of the Twist, that one is also on offer with a  500GB drive at $809 with the coupon. Both models have a ship date estimate of 29th November 2012.
We've updated our Lenovo Twist information page with some new videos and will update again as soon as we see the first quality reviews online. Naturally we're also trying to get a review model.