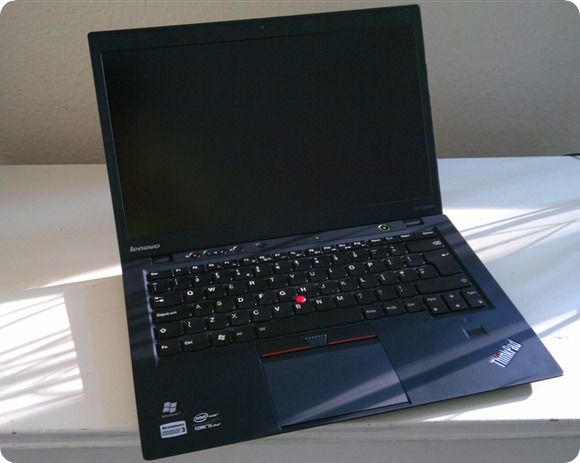 Thanks to Lenovo I've got the Lenovo Thinkpad X1 Carbon here. It's a high-end productivity and security-focused Ultrabook and the first Ultrabook I've tested with 3G capability. A 256GB SSD and a VPro-capable Core i5-3427U 1.8Ghz CPU along with 8GB of RAM make for an impressive set of specs. The setup being tested here comes with Win 7 Pro a fingerprint reader and has a list price of €2276 although it's available for around 1800-1900 Euros on the 'street.'
There's no unboxing involved here as we've got generic packaging from Lenovo's demo agent and it's also a bit disappointing to have to drop back to Windows 7. A windows 8 unboxing would have been nice, but let's move on.
My first 5, actually 30 minutes were a bit frustrating due to Lenovo's overzealous attempts at customizations. There's a ton of pre-installed software (some trial, some unnecessary like Adobe Air, SugarSync, Splashtop, ) and a lot of Lenovo utilities that I found very annoying. If you buy a house, you don't expect someone to put their own furniture in it and then have to take it all out and put your own in.
113 processes were running after boot which is the most I've seen on any Ultrabook to date. Some of it may be useful in the long-run but extra taskbars, a 'simple tap' tiled overlay screen which just looks horrible having used Windows 8 and many more. It feels messy and unprofessional and on a system aimed at the best productivity possible, it gets in the way.
A Windows 8 version of the X1 Carbon is available now so I hope Lenovo have pulled out some of their menu systems.
Keeping me positive about the product during the first 30 minutes was the fantastic keyboard and mouse experience. (Update: see the end of this report.) It's been about 7 years since I had a laptop with a mouse pointer / touchpoint and it took me all of 10 second to get back into the experience. I'm a fan! Palm resistance on the touchpad seems perfect and the keyboard is a dream. It's backlit and provides good travel, good feedback and large, slightly convcave keytops. Only the Fn/Ctrl key positioning (swapped compared to what I've been used to) is catching me out.
The casing is solid and grippy with no creaks or cracking and the screen hinge drops all the way back. It's a matt display too. Configuration weight: 1.35KG / 2.97lbs
Around the casing you've got a useful radio-off button (a manual airplane mode that's not really needed in Win 8 which has its own software-switch for airplane mode.) There's only two USB3.0 ports. A full-size SD card slot and a for external screens and mini Displayport. There's no removable battery, docking port or slice battery connector.
In  a few battery life, noise and heat tests I was a bit disappointed to see basic Chrome-based browsing coming in at 10.5W average drain. That's more than your average Ultrabook and leads to periods of very faint, mosquito-like fan noise.  A device of this calibre and aimed at productivity should definitely not be in this situation. Two other Ultrabooks I have here are totally silent under the same conditions. I'm sure this can be tweaked away but it could mean removing a lot of the software and processes that are installed or running on the X1 Carbon – a very unproductive process. Battery-stretch mode helps to reduce power consumption but this should not be necessary. Further testing needed here to confirm what I think might be a product bogged down by software.
The X1 Carbon I have here includes the SATA II Sandisk SD5SG2256G10 and it's a performer. Max 414MB/s read speeds and 48MB/s 4K write speeds. That's fast enough for any 2012/2013 Ultrabook!
But now it's time for me to stop. The mouse pointer, pad and buttons have just stopped working for no good reason. Like the software issue, this is worrying., however good the keyboard is. Stay tuned for a video hands-on and full review over the next week.