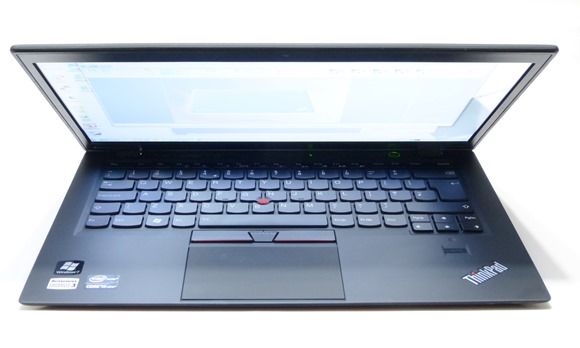 What a pleasure it has been to test this high quality Ultrabook. What a disappointment it is though to see software affecting the experience. The Lenovo Thinkpad Carbon X1 review is below.
Model tested: 3460-2SG S, a European model with 3G that retails for about €1749 and about $1750 when configured at Lenovo USA.
Lenovo Thinkpad X1 Carbon review model full specifications:
Manufacturer: Lenovo
Model name: ThinkPad X1 Carbon
CPU type: Intel Core i5-3427U (VPro-enabled) 1800-2800Mhz
Graphics: Intel HD 4000
OS: Windows 7 Pro
Display Size: 14.0″ 1600 X 900
Screen Type: LED-Backlit LCD
Touch Technology: No Touchscreen
RAM: 8GB
Battery Capacity: 46Wh
SSD: 256 GB SanDisk SD5SG2256G1052E
Weight: 1350gm / 47.6 oz. (measured)
Ports: DC-in, Line-out / Headphone (3.5mm), Displayport (Mini), SDHC Card Slot, USB2.0 (x1 with power), USB3.0 (x1)
Wireless: Intel Centrino 6205, Bluetooth 4.0, 3G via Ericsson H5321GW with GPS, HSPA+
Security: VPro , TPM 1.2, Fingerprint reader, GPS tracking
Other features: Backlit Keyboard, Matt (Non Glossy) Screen, Array microphone, Multitouch Touchpad, touch pointer, Stereo speakers, WebCam, hardened chassis, quick charge.
Unboxing
The Lenovo Thinkpad X1 Carbon was delivered in review packaging and therefore we haven't done an unboxing video for you. A full gallery is here.
First Impressions
Our first impressions were published in a previous post.
External Build, Size and Weight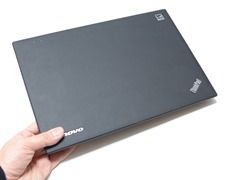 If you haven't experienced the solid feel of a Lenovo Thinkpad before then you'll be immediately surprised at how rugged the build feels. No squeaks or rattles, a rubberized chassis that feels incredibly robust. It's difficult to flex any part of this Ultrabook. As a result of the solid build it does feel a little denser than the lightest Ultrabooks but from every other perspective this is a very lightweight 14″ laptop. It's thin too. Given the tight dimensions and solid build it's no surprise to find that the X1 Carbon only has a 46Wh battery inside. With no 'slice' battery option, that's quite the tradeoff. The Lenovo Thinkpad Edge is a sub $600 laptop at a similar weight, with a slightly less powerful processor but it's been built with a 23mm thickness (the X1 is 18.8mm) and offers a huge 63Wh battery. The Fujitsu Lifebook SH772 Ultrabook offers even more. We think this battery life / weight trade-off should be at the top of your checklist when evaluating the X1 Carbon.
Ports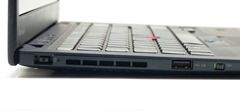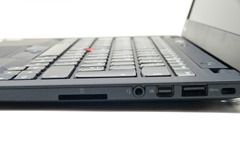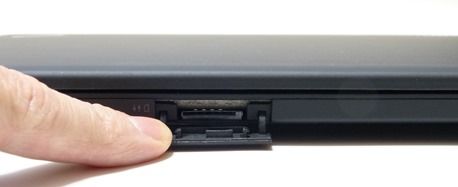 3G SIM card slot is at the rear.
Again there are trade-offs. One USB3.0 port, one USB2.0 (with sleep and charge) , a mini Displayport, full size SD card slot and a headset port will probably be enough for most people. Don't forget to buy a few Displayport adaptors though. Also, on the left of the Ultrabook, you'll find a wireless off switch which is always a simpleand reliable way to enter airplane mode or simply to save battery. Windows 8 obviously has this switch in software so it's use is fairly limited under that OS.
Screen
At 14" with 1600×900 resolution it's optimal for productivity on the go. The Windows 7 (and Windows 8 desktop) experience degenerates at higher resolutions for those without perfect eyesight. Bumping DPI settings on a FHD screen isn't 100% error free so this setup is just about optimal. This isn't an IPS screen though so viewing angles in the vertical plane are a bit restricted. Horizontal angles are good for multi-person viewing (although bad for security and privacy.) Contrast seems OK for a matt display – a style that never produces the most punchy reproduction. Because of this, and the restricted vertical viewing angles we'd put a red flag up for photographers and graphic artists. For the rest of us, carry on – it's more than good enough for office work.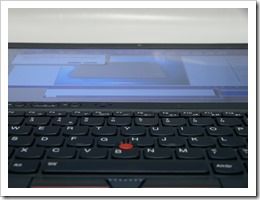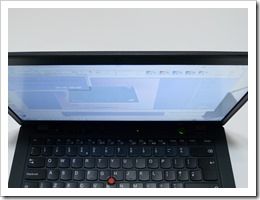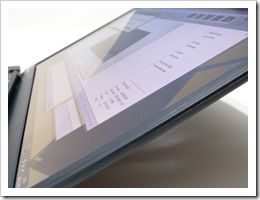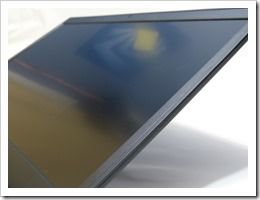 In terms of brightness it's good and OK for cloudy-daylight working but not a super-bright screen good enough for sunlight working. Few LED-backlit LCD screens are good enough for that scenario though. In comparison with a Toshiba Z830 it's a tick brighter which, in turn, is a few ticks less bright than the Samsung Series 9 15" we tested.  The X1 Carbon sits somewhere in the middle.
Keyboard / Trackpad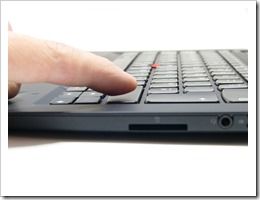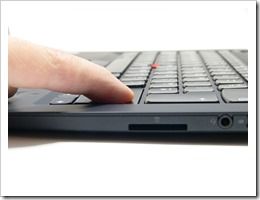 We would have liked to spend more than a week testing the keyboard, track pad and touch pointer but as far as we've tested we're very happy. The backlit keyboard is silky, responsive and provides great feedback – a world apart from the Toshiba Z830 used by this author on a daily basis. The touch pointer is great too although that is very user-dependent. [I used a touch pointer for four years during the 2000's and got straight back into this method with the X1 carbon, even tap to select on the pointer – Chippy]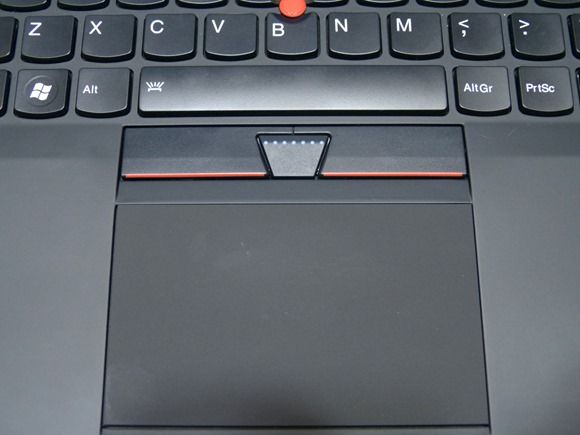 The touchpad has good palm rejection when using the touch pointer, feels silky smooth and can be used with the separate mouse buttons (including a middle 'scroll' button) or with the built-in button areas. We weren't overly keen on the integrated buttons but at least you've got choices here. There has been talk of touchpad rattle and looseness but we don't have any of that. There's something in the region of 0.2-0.5mm play on the touchpad which is just right to give an audible feedback when using tap-to-click. Whatever your style of 'mousing', Lenovo's Ultra Nav hardware and software should give you a comfortable solution.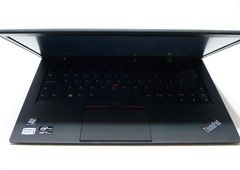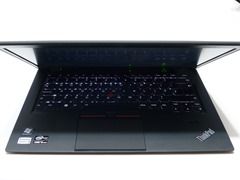 Keyboard backlight off…and on.
General Performance
Unfortunately we have to mention a problem early in the performance section because Lenovo have loaded up so much software that we see it affecting performance in terms of speed and battery life. In our first impressions we noted 113 processes running in the background which is a huge number although given the hardware on the device (TPM, VPro, fingerprint reader, GPS etc.) one must expect a few extra bits going on in the background. There's some overlay and assistant software too which we disabled pretty quickly and you'll find some trial-ware. The software package isn't low quality, it's just that there's a lot of it. So once again, we're testing a Windows 7 version here. We've heard from one reader that it's better under Windows 8 so please people, consider going Windows 8 where the software solution might be better.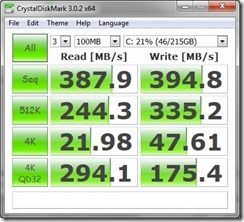 We're going to skip over boot and standby speeds due to the progress that has been made by Windows 8 which , during 2013, is going to be the default choice for most people. IT groups putting the X1 Carbon into businesses are likely to have their own builds too. For Windows 7 and the software installed we're happy with a 40 second boot but the most important thing to mention that relates to this is the disk speed, which is incredibly fast. Sequential write speeds max out at nearly 400MB/s and 4K writes at a very healthy 47Mb/s
The speeds above are excellent all round and under Windows 8 we'd expect some of the best boot and restore speeds in the Ultrabook class.
In terms of size, we've got the 256GB SSD here which has been configured with a recovery partition and 215GB of Windows 7 partition of which only 169GB is free on our review sample, and that's after removing a few trial software packages. Over 80GB is lost to formatting, recovery and OS.
Audio performance
Stereo speakers are clear and loud, driven by a Realtek audio module but without any sparkle. The usual SRS and graphic equalizer settings are available in media player but there are no equalization, effect or mode settings in the Realtek software. Plugging headphones into the headset port work to extract an analogue signal. Unfortunately we didn't have the equipment handy to test the DisplayPort audio pass-through. The HD 4000 DisplayPort media interface supports DisplayPort 1.1a which, in theory, support audio pass-through.
Video (external) Performance
The Lenovo Thinkpad X1 Carbon includes a mini DisplayPort V1.1a. Users can buy low-cost adaptors for HDMI, DVI and VGA. HD 4000 supports two external monitors which can be implemented via Displayport. This has not been tested during this review. We have not tested external display performance in this review.
Video (internal) performance
Background on Ultrabook video performance:
The video playback capabilities of PCs have three limiting factors. CPU, video decoding hardware and software codecs. Windows 7 provides a good set of software codecs out of the box and supports most hardware video decoders. MPEG2, MPGEG4 part 2 (like Xvid, Divx) and MPEG 4 part 10 (like H.264) along with WMV of course. You'll need to download and install codecs for other types of file. Windows 8 does not support MPEG2 playback out of the box.
The Lenovo Thinkpad X1 Carbon with Ivy Bridge uses the HD 4000 integrated graphics unit with improved media capabilities. (Overview here.)
The HD 4000 GPU supports full HD (1080p) decoding in hardware and we tested it up to 50fps and 30Mbps which is as high as you'll get on most consumer video cameras. In theory the chip can decode twice that much and can even handle 4K video decoding. Unfortunately we weren't able to test that that. CPU usage levels are impressively low (average 3%) on decoding 1080p (H.264) video content. The fan came on at a low level while testing a 1 minute HD video playback. At 50% brightness and 'balanced' battery mode the power usage averaged 12W which is slightly higher than we'd expect. It equates to 4hrs of HD video playback.
The Wi-Fi card, a Centrino N 6230 module, supports Intel Wireless Display (Wi-Di) so you can send 1080p video (up to 60fps) to a screen without a cable. Wi-Di is not a lossless transport and targeted at video, not wireless desktop usage. A Wi-Di / HDMI receiver costs from around $50.
All Ultrabooks include the Intel Quick Sync Video hardware that, through use of the Intel SDK, can provide accelerated decoding and encoding capabilities for common video file formats. The HD 4000 implementation is theoretically faster than the HD3000 implementation. For example it will take around 15 seconds to convert 60 seconds of 1080p to 720p video.
Gaming.
We've tested gaming with the HD 4000 built-in graphics before and, while impressive for an on-board graphics unit and much faster than the performance you'll get from an older HD 3000 (Sandy-Bridge era) GPU unit, it's still not able to provide a worry-free gaming experience. It can support 'recent' games at lower setting levels and can be quite battery efficient at doing so but you'll still have to put up with anything down to 1.5hrs battery life, some fan noise and a bit of warmth. In a benchmark test in Just Cause 2, tuned down to 1280×800, we saw 18.26 frames per second which is about double what we're used to seeing under Sandy Bridge devices but still not good enough for gaming. At 1024×768 the frame-rate was up in the 20s and when we tuned down all the advanced display settings to low and turned of Vsync we managed to see some 30+ FPS figures. Still, that's not enough overhead for smooth gaming because average frame rate was still only 22fps. Still, it's about the best we've seen on an HD 4000-based Ultrabook so the X1 Carbon did well for its class.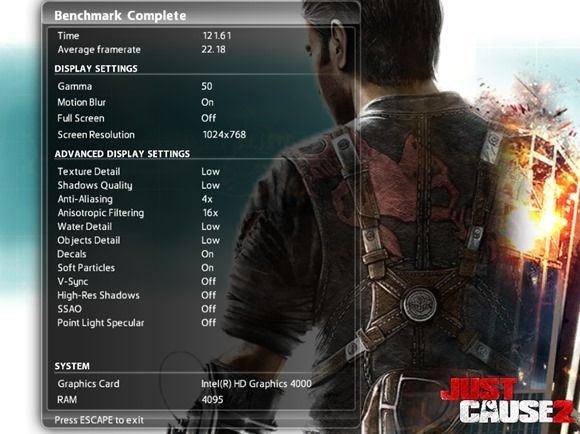 Support Ultrabooknews and our detailed reviews.
You'll find a Facebook 'Like', Twitter and Google +1 buttons at the top of this post. Please take the time to promote us if you feel this review was useful. It will help us with the next Ultrabook review. Thanks!
Wifi Performance
Throughput testing was not performed with the Lenovo X1 Carbon but a three-wall test showed excellent reception and throughput characteristics. Well above the average performance of other Ultrabooks we've tested.
Bluetooth performance not tested.
3G (HSPA+) performance
Using an 02 HSPA+ network it was a simple setup procedure to get going after installing the SIM card and rebooting. Download speeds were as expected in the testing area, midday, with 3.2Mbps down and 1.1Mbps upload using Speedtest.net. Hotspot software is pre-installed. The HSPA+ module installed here in Europe supports a theoretical 21.1Mbps download and 5.76Mbps upload.
Performance Tests
All performed under 'balanced' battery power mode unless stated. SB= Sandy Bridge 2ng generation Intel Core CPU with HD 3000 graphics.
3DMark06
Lenovo Thinkpad X1 Carbon (1280×800) = 5224
Previous results:
Samsung Series 9 2012 15" (Core i5 3317U, balanced battery mode) = 5112
Lenovo U300S (Core i7 SB 1.7Ghz) high performance battery power: 3520, mains power: 3611
Samsung Series 5 (Core i5 SB 1.6Ghz) Battery power – high performance mode: 3416
Toshiba Z830 (Core i5 SB 1.7Ghz) Battery power – high-performance mode: 3508 3D Marks (2nd-run:3518)
Acer Aspire S3 (Core i5 SB 1.6Ghz): 2784 3DMarks
Samsung 900X1B (Core i3 SB 1.3Ghz): 2373 3DMarks
ASUS UX21 (Core i7 SB 1.7Ghz): 3182 3DMarks
PCMark7
Lenovo Thinkpad X1 Carbon = 4832
Previous Results
Samsung Series 9 2012 15" (Core i5 3317U, balanced battery mode) = 3129
Lenovo U300s (Core i7 SB, 1.8Ghz) PCMark 3280
Samsung Series 5 (Core i5 SB, 1.6Ghz) PCMark: 1894 (high performance, battery power.)
Toshiba Z830 (Core i5 SB, 1.6Ghz) PCMark7: 2885 (battery power, high-performance mode.)
Acer Aspire S3 (Core i5 SB) PCMark7:1967
Samsung 900X1B (Core i3 SB) PCMark7: 2508
Asus UX21 (Core i7 SB) PCMark7: 3358
Cinebench 11.5 CPU Test (2 Core)
Lenovo Thinkpad X1 Carbon = 2.55
Previous results
Samsung Series 9 2012 15" (Core i5 3317U, balanced battery mode) = 1.68
Lenovo U300S (Core i7 SB): 2.12 points
Samsung Series 5 (Core i5 SB) 1.6Ghz Battery power, high performance mode): 1.55 points
Toshiba Z830 (Core i5 SB 1.6Ghz): 1.89 (battery power, high-performance)
Acer Aspire S3 (Core i5 SB): 1.63
Samsung 900X1B (Core i3 SB): 1.25
ASUS UX21 (Core i7 SB): 2.11
Cinebench 11.5 OpenGL
Lenovo Thinkpad X1 Carbon (battery balanced) = 13.73
Lenovo Thinkpad X1 Carbon (mains, max performance) = 15.03
Previous results
Samsung Series 9 2012 15" (Core i5 3317U, balanced mains mode) = 15.63
Lenovo U300s (Core i7 SB 1.7Ghz) high performance mode : 8.68
Samsung Series 5 (Core i5 SB 1.6Ghz): 8.03 (Battery power, high performance mode) (8.11 in second test)
Toshiba Z830 (Core i5 SB 1.7Ghz) 8.36 fps (battery power, high performance)
Acer Aspire S3 (Core i5 SB 1.6Ghz): 7.51 fps
Performance summary.
The Lenovo Thinkpad X1 Carbon returned the best Cinebench, 3DMark and PCMark 7 results we've seen so far and with the Cinebench OpenGL results the Thinkpad came second. This is impressive for a Core i5 CPU and shows a potential advantage of the higher clocked VPro-enabled Core i5 Ivy Bridge CPU. There's something to say about Turbo tuning too as we saw high levels of sustained 2.6Ghz Turbo through the whole of the Cinebench CPU test. Lenovo appear to have done a great job on the thermal design and Turbo tuning, even under battery power.
Security
Intel VPro – the security and remote management subsystem, TPM – the secure keypass module, Anti-Theft, Identify Protection Technology, a fingerprint reader (TouchChip), GPS, 3G and Kensington lock provide almost every possible security feature possible on a laptop today. Some software that uses these technologies are pre-installed on the system but configuring and monitoring these features is a job for a skilled security expert familiar with the hardware, software and network services that use them. We have not had time to perform a suite of security and management tests on the Lenovo Thinkpad X1 Carbon.
Battery Life
Before checking the battery life figures, please read the following note. The Lenovo Thinkpad X1 Carbon was delivered with Windows 7 and what we consider to be heavy package of additional software. Some of the software is necessary, some is useful, some is trialware/demoware. In our initial out-of-the box test we measured an average drain of 10.5W with casual web browsing in no more than 5 tabs. The Samsung Series 9, with Windows 7, can do that in 8.3W which is a huge difference. For the following tests we removed some of the pre-installed software (only unused freeware) and re-tested.
Scenario 1: Idle, no Wi-Fi, sound off, battery 'stretch' mode.
Screen off idle – 5W = 9hrs
Screen low (level 0) idle – 5.5W = 8.3hrs
Screen 50% (level 8) idle – 6.3W = 7.3hrs
Screen max idle – 9.5W = 4.8hrs
Scenario 2: Local MP3 playback using Windows Media Player. Medium volume, lowest screen brightness.
Screen Low (level 0) – 6.9W = 6.6hrs
Scenario 3: Streaming MP3 playback (Wi-Fi On, 3 walls from hotspot)
With WiFi enabled and Groove Salad streaming through Windows Media Player the figures were as follows:
Screen Low (level 0) – 7.2W – 6.4hrs
Scenario 4: Web working
With the screen set to 50% brightness and in battery saving power mode we ran, and used, the following browser tabs for a total of about 5 minutes: Chrome: Tweetdeck, Facebook, Google Plus, YouTube, Gmail
Average: 10.2W = 4.5hrs
Note: The fan came on in this scenario which is unexpected.
Scenario 5: Office working
In the office working scenario we started Live Writer and Microsoft Word, played some audio and left the browser running with the tabs from scenario 4. In Livewriter we wrote some test and edited a few images. In this test we turned off battery-stretch
Average 10.2W = 4.5hrs
Scenario 6: HD Video playback
With a continuously looping 1080p video playing full-screen in Windows Media player we saw an average of 12.8W for 3.6hrs of playback. The fan was active during this period.
Using YouTube to play a 1080p video we saw an average of 13.1W drain. (3.5hrs, Battery power, balanced mode) The fan was on an audible during this test.
Heat was negligible in all the above modes.
Under gaming tests we saw a 28W max drain and average of 25W indicating under 2hrs of gaming usage. Heat build was significant in the center-rear of the base on the Ultrabook.

Other features
Smart Connect technology is also available for configuring wake-poll-sleep cycles.
WiDi (Wireless Display V3.1) is supported by the Lenovo X1 Carbon.
Specifications, links to other reviews, pricing, videos and gallery are available in our Lenovo Thinkpad X1 Tracking Page.
Heat and Noise
The fan exhaust exists on the left-hand side and during our load tests the unit didn't get too warm. The working fascia of the X1 Carbon remained cool with the only warmth detected on the rear-underside of the chassis. The fan is infinitely variable in speed and can be heard with relatively low speed levels under normal online web-browsing conditions. The fan noise is easily drowned-out by normal office noise but those working in complete silence will be able to hear its relatively high-pitched motor noise and normal airflow noise.
Issues and Notes
One mouse pointer and touchpad lock-up during testing
Power 'brick' is heavy but…
Rapid Charge is possible, and we noticed it.
Webcam not tested.
Target Customer
Clearly the Lenovo Thinkpad X1 Carbon is for those needing a high quality ultra mobile laptop. The ruggedness and keyboard inspire confidence. There are other audiences too though as the performance is up there with the best of Ultrabooks. The high-speed SSD and well-tuned Turbo Boost system combine well although this is not a gaming rig by any means. For those needing all-day battery power, the Lenovo Thinkpad X1 Carbon may not be for you as the trade-off made for the light weight means the battery inside is relatively small.
Security must be mentioned here. For anyone requiring a large set of security features, and some that have never been combined together on a laptops before, the X1 Carbon must be near the top of your list. The only thing that is missing here is a self-encrypting SSD and maybe a security card swipe/slot.
Summary
This is by far the highest quality Ultrabook we've tested here. High quality components appear to have been used all round and every part of the package has been well-tuned although hands-up if you're looking for an IPS screen option? We're testing a >1700 Euro package here and there are more expensive models too so you would expect some class-leading quality. We love the keyboard/mouse quality and options, the well-tuned Turbo Boost and wireless systems and the 1600×900 screen but minus points go to the relatively small battery and the huge amounts of pre-installed software which combine to give mediocre battery life, especially in near-idle scenarios. Fortunately there are solutions to this problem. Clean installs and, we hear from one reader, Windows 8 which improves the situation somewhat. Given that, we can thoroughly recommend the Lenovo Thinkpad X1 Carbon Ultrabook.
Evaluation
WRT to the Ultrabook category as a whole….
| | | | | | | | | |
| --- | --- | --- | --- | --- | --- | --- | --- | --- |
| Battery Life | Connectivity | Screen Quality | Portability | Touch UI | Sensors | Productivity | A/V experience | Gaming |
| 6 | 8 | 8 | 9 | N/A | 3 | 10 | 8 | 8 |
Specifications, links to other reviews, pricing, videos and gallery are available in our Lenovo Thinkpad X1 Tracking Page.