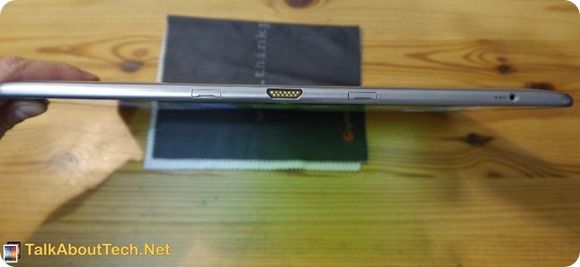 This is the feature that we've been waiting for – low power states in Windows that match what you might see on a smartphone. Always on! Personally I  think it's a feature that Intel haven't promoted well enough, possibly because it makes Ultrabooks look a little old fashioned.
The new low power states have been available in hardware since Moorestown chipsets were available and you can experience them in action in Android tablets and smartphones running on Intel but in the world of Windows PCs, only the CloverTrail platform /Windows 8 offers this new level of of idle efficiency. It means you'll get a big improvement in battery life and the possibility of always-on action.
In the last 24hrs I've had feedback from a user in Germany that proves it's working.
Talkabouttech run by a mobile fanatic that I'm often sharing ultra-mobile and cameraphone thoughts with (follow Stephanie here on Twitter)  pinged me yesterday to let me know that the Samsung ATIV SmartPC running Windows 8 can run with Wifi and screen-on  in under 2W. Ultrabooks, by comparison, idle down to about 3W – with Wifi and screen off! Turn the screen backlight and Wifi off on an ATIV SmartPC and you'll be into the mW zone, an area that was exclusive to ARM-based devices running mobile operating systems until now. I bet that with some careful application management (i.e. a clean install and use of the more efficient Metro-based applications) you'll be down in 500mw territory.  OK, it's not quite smartphone standard but it's at least 5X better than the best Windows PCs up to now.
"But what about when you're using the device? inch I hear you say. Yes, like any platform that idles efficiently, power usage increases massively when you're using it. Wifi-On, Screen backlight on, CPU and GPU working and even things like speakers, mouse usage, USB and disk access will push usage up into the 5-10W range but don't forget that as soon as a job is done, systems can idle. In fact, power usage duty-cycles can tend towards that idle baseline so the lower the baseline, the better your average power drain.
There are other features in Clover Trail too that help when you're doing specific media tasks. Talkabouttech are reporting that a 1080p video plays back in 3W which is enough for non-stop video on a flight from London to San Francisco. Music playback with Wifi and screen-off could, I predict, go multiple days.
We've already had on user review on the Samsung ATIV Smart PC here but I recommend viewing TalkaboutTech's detailed first impressions too. Here's the translated link for English readers. Click through to check out first-impressions and a bunch of hands-on photos.
If you've got experience with the Clover Trail-based Windows 8 PCs, let us know your thoughts below. Questions also welcome.
[Yes, I'm trying to get a review model.]