Samsung Ativ Smart PC 500T Page 2. (Page 1 here)
Battery Life
One of the main test that I had to test was the battery life and the performance on the Samsung ATIV using the Clover-Trail processor. I seriously didn't think I would be able to get all day use with the ATIV Smart PC, but it turned out that I was getting through the whole day with no problem. If you really need to use a Windows 8 tablet that can run full Windows applications, and don't need the higher performance of the Core processor, then you should be looking at the Atom Clover-Trail tablets from Samsung, Asus and Acer. I have used the ATIV Smart PC and can get about 10 hours of battery life with half brightness using to view web pages, Word documents, email and launching Metro apps for news. This is where the ATIV with the Atom processor gets a plus from me, runs all day with the ability to use my desktop application on the road, which is one thing you can't do on an iPad or Android tablet. Not that I still wouldn't use my Galaxy Note 10.1, but things might change for me.
Camera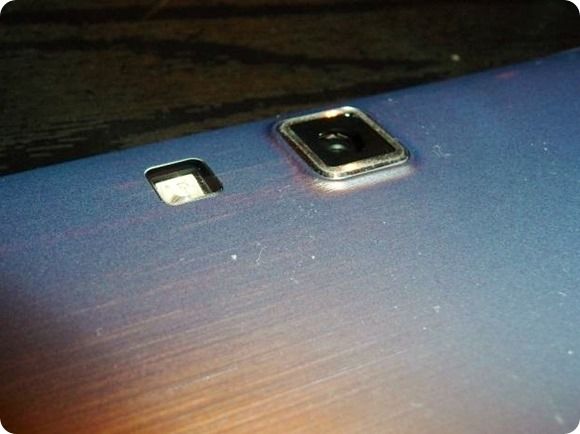 As for the camera, the 8MP rear camera is on par with most all other tablets that are out on the market. The rear camera on the ATIV Smart PC, does a good job of capturing pictures in low light with flash. Without flash, you can see some graininess, which again is on par with most tablet cameras. I know most won't agree with me, but we need to see better cameras for tablets. I don't personally use the camera to take family pictures, but having a good camera with great optics will make a difference when using the camera as a scanner for business. The better the camera, the better the image of your scanned document is. This is why we need better cameras, and we should see hopefully in the future.
Here attached is a picture taking with the ATIV Smart PC in low light using the LED flash and without flash. You be the judge. I will try to post some other pictures later using the camera.
On the left a picture using the flash on the ATIV Smart PC with normal lighting.
On the right, the photo was taken without flash using normal light indoor light
S-Pen and Digitizer
The Samsung ATIV Smart PC comes with S Note; this has been ported over from the Galaxy Note 10.1-inch tablet. If you are looking for a tablet with the ability to take notes, and need to have full Windows 8 OS, and don't need the iCore processor, the ATIV Smart PC should fit the bill for you.
I have tested OneNote, mini S Note and S Note applications using the ATIV Smart PC, and for some reason mini S Note lags when you start to take notes. It might be that Samsung hasn't optimized the application very well. At one point the using mini S Note got so slow that it made it difficult to take notes. The only two applications that I am using are OneNote and S Note. Both run excellent on the ATIV Smart PC without any lag or any problems. Again if you're looking for a tablet with ability to use as a note book, ATIV Smart PC should be on your list. I do have to say that using an 11.6-inch tablet for note taking does take some time to get use too. But then again, it shouldn't be any different than using a legal size notepad to take notes?
The ATIV Smart PC comes with a stylus that docks on the back. This makes it easy to have when you need it, but the stylus is kind of small. Actually the stylus is very similar to the stylus on the Galaxy Note 10.1-inch tablet, except that the ATIV stylus is a bit smaller. I personally have been using my stylus that I used for my Galaxy Note phone; which is the S Pen holder kit.
The inking on the ATIV Smart PC is very smooth and very responsive which is a plus, as many tablets that try to use software and a capacitive type stylus to take notes. I personally never had any luck with those types of tablets. Maybe for short quick notes it would work but when it came time to take long notes or markup documents it never worked as good as I wanted to. If you're a OneNote user, or want to mark up documents naturally with the stylus, sign PDF documents using PDF Reader and inking an email response, the ATIV Smart PC will do the job without any compromise at all.
Apps and S-Pen Demo
Performance

Here is what WEI shows on the Samsung ATIV Smart PC. As you can see that the lowest score is 3.2, which is gaming graphics. Again don't expect iCore performance on the ATIV Smart PC, but it will stand up to most of the task you need in today's software.
Overall the ATIV feels solid, even though the back is made of some plastic. I do have a squeaky sound at the bottom of the tablet, not to bad but it is there when I hold it or squeeze the tablet. I really like the performance as I can set back and look through web pages without the worry that it will not load because I am using an iOS or Android OS tablet. I have had several tabs opened in the desktop browser and also the metro browser, along with news apps running on the side. I am looking forward to getting the keyboard dock to test out the quality of the keys.
The bezel around the tablet is wide enough that it allows you to hold it without having your fingers touch the screen and accidently scroll the screen. The screen resolution at 1366 x 768 might not be retina, but text, pictures and movies looks great. This is pretty much the same screen resolution as the MacBook Air 11.6-inch, but when I compare both, the ATIV Smart PC text looks much better and more readable compared the 11.6-inch MacBook Air.
Also from my testing, the ATIV Smart PC is fanless, and after running several YouTube videos and running applications. The ATIV Smart PC was a bit warm but not hot at all. The Microsoft Surface Tablet actually gets a bit warmer than the ATIV Smart PC. Which did surprise me? I did expect having the Atom processor it would get pretty hot, but so far it hasn't. This makes it again a great tablet to use in your hand when you need to sit back and enjoy some reading at home or office.
I will try running some games and see how well the ATIV Smart PC can do. At this point I know that I can use the ATIV Smart PC as a second PC without any problem to handle all my work related applications. Or if your needs are pretty basic, you might be able to use the ATIV Smart PC as your main computer with an external monitor hooked up and paired up with Bluetooth keyboard and mouse.
Video Editing on the Samsung Ativ Smart PC 500T
In comparison to the current iPad tablet, a 64GB iPad with no expansion slots, you would pay $699 plus $99 for a keyboard. The Samsung ATIV Smart PC with 64GB SSD storage and capable of using the microSD slot for an additional 64GB storage, a keyboard docking station with an internal battery to provide up to 16 hours of battery life can be purchased for $749.99, making the ATIV Smart PC a good buy for those that truly want to be mobile but yet have full Windows 8 with Metro apps as well.
Further reading…
Unboxing and quick overview http://youtu.be/PUvRJ3Ijghg
Testing applications and Metro apps http://youtu.be/pjLbngziVGU
Using the ATIV as your mobile video editor http://youtu.be/0bF3kiikxCc
For specifications and more information and links on the Samsung Ativ Smart PC 500T, see our information page.
Don't forget to subscribe to Hectors YouTube channel here. Follow him on Twitter here and check out his blog here. Thanks Hector
Pages: 1 2