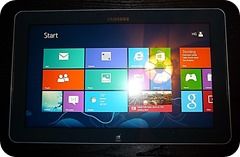 The UMPC was a failed 2006 attempt by Intel and Microsoft to build a market of portable, fully functional PCs. Unfortunately neither the OS or the technology was ready for consumers so the sector faded into the specialist market. In the meantime quite a bit has changed. The Atom platform has evolved and we've now got Windows 8.  As a result the sector is coming alive again and it's something we should all be keeping an eye on if we're concerned about mobility and long battery life.
Today over at our sister site, UMPCPortal.com, we are fortunate enough to have a very early owner review of the Samsung ATIV Smart PC 500T, the lighter, longer battery life but less powerful brother to the Samsung ATIV Smart PC 700T.
Hector, the ATIV owner, has written a great review with images and three detailed videos. There some really interesting information about 10hr battery life, the digitizer and performance.
Check out the Samsung ATIVSmart PC  500T Review at UMPCPortal.com
Note: We don't track the Atom-based devices at Ultrabooknews so if you're interested in learning about PC devices in the mobile sector, check out the UMPCPortal product database.