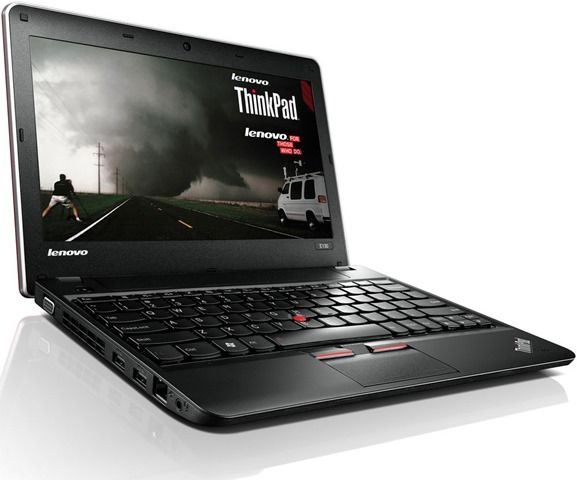 In a search for Core 2nd and 3rd Generation Laptop under 2.5KG with hybrid HDD or SSD (that pretty much summarizes the Ultrabook category these days) I was interested to see the Lenovo Thinkpad E130 show up as the cheapest Ivy Bridge option on the market. €541. I had to double check but sure enough, there's a hybrid SSD inside which shows what effect the Ultrabook is having on the mainstream laptop market. Why isn't it an Ultrabook? It's 23mm thick, 5mm over the maximum thickness for an Ultrabook. There's a good reason for that and it might just be what you're looking for.
It looks very netbook-like to me and the bezel appears rather thick but for the price, you're getting quite a lot of device. It's a Thinkpad for a start which leads to interesting thoughts about build and keyboard quality (I haven't tested this one.) and then there's the Ivy Bridge CPU Core i3-3217U (1.8Ghz) which is quite a bit more than you get on the equivalent priced Lenovo Ultrabook, the U310. You've got a replaceable, 63Wh battery too. That's a huge battery at that price, especially on an 11.6" screen (matt) device. Maybe that's why it weights 1.5KG but hey, try finding an Ultrabook with the same battery capacity and less weight – it will be double the cost. As for the thickness, the Thinkpad keyboard could be a reason to be cheerful of the extra thickness.
The E130 shows how close the Ultrabook and the laptop are now and how features and prices are crossing over. The Ultrabook is hauling-ass as you might say. Dragging the boring old laptop into new territory with quick-response, light weight and better design.
The Lenovo Thinkpad E130 is tempting me. It might just make the perfect trade-show workhorse. If you're in Europe, it could be your Cyber Monday treat! [More Cyber Monday offers here.]
Source: Geizhals Germany. Example retailer. Review (German)
This isn't available in the USA. (It you do see it, let us know in the comments.)