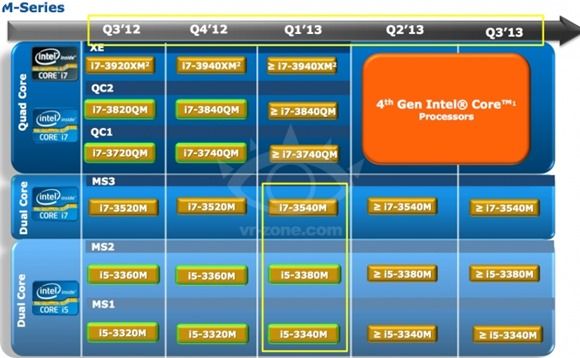 Chinese VR-Zone published, back in August, what looks like a roadmap for Haswell which might be worth thinking about if you're waiting for news of next-gen Ultrabooks. We hadn't reported on it although we've heard various rumors, some of which were pointing to an accelerated roadmap. This item of news aligns with that but doesn't include the Ultrabook SKUs which are said to come in Q3 2013
Given the current state of Ultrabooks with the Ivy Bridge processor platform well integrated into the segment and a huge choice of new form factors including more mobile and tablet solutions, we though it might be worth highlighting it.
The source article is in Chinese and therefore a little difficult to decode but the indication is that there will be a U-Series (Ultrabook) processor update in Q1 2013 (Core i7-3687U and Core i5-3437U) and that the Haswell cores will start to feed in in Q3, the Computex Taiwan tradeshow timeframe.
Data on the Microsoft Surface Pro still indicates 3rd-gen Core and as that's not going to be available until early 2013 it's a specification we've been watching because if Haswell had been accelerated that would have been a good flagship model to outfit with new Haswell cores. It now looks very unlikely that the CPU in the Surface Pro will change from 3rd-Gen Core i5.
We're now fairly confident that we won't see Haswell based Ultrabooks until the same time as this year – the June/July timeframe at earliest, with August and Sept general availability which means there's nearly a year until the new models will have been reviewed and settled down into stable street prices. If you need something thin and light over the next 6 months, there's really no reason to wait. Keep an eye out for seasonal offers in many countries!
If you are thinking about a tablet though it's worth highlighting one important aspect of Haswell. The new core architecture and SoC design will be smaller, have better thermals and will also offer some very interesting always-on power control that current Core platforms can't achieve. Only the Atom CloverTrail tablets can achieve that all-important AOAC/Connected Standby state. If you're looking at a core tablet, unless you find something that fits your needs over 100% (sub 100% is not what you should accept as a solution) then wait.
Hat-tip Notebookitalia