Written on the Acer W510.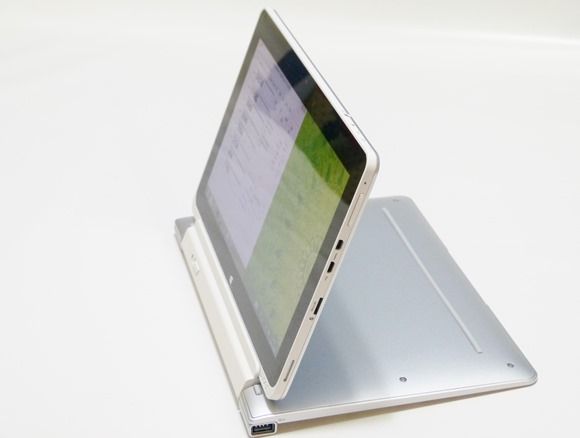 Intel CloverTrail is a truly ground-breaking PC platform and the Acer W510 appears, in my 48hrs with it, to offer great ways to enjoy the new features of the platform along with amazing value. At least it does in Europe where the tablet and docking station can be had for €499 inclusive tax. I have the €599 version here which includes 64GB of storage.
I've been extremely impressed so far. It's light enough to use in portrait mode using thumb input, it has battery life that will last you a full 24hrs in consumption scenarios or you can get creative and plug the dock in and work, like I am now, for a good 8hrs non-stop. This is not an ARM-based Windows RT device, this is  PC. 'Post-PC' needs to be re-thought because the dynamic range of this PC takes it into more scenarios than any computing product before.
CloverTrail and Acer Iconia W510 Overview video
Here's an overview video which explains a lot about the new always-on mode which allows background tasks and continuous connectivity. AOAC, or Connected Standby as it's known, is for me the main feature in Windows 8 and I suspect that many commentators haven't even realised that it's possible with Windows 8 yet. Always-on is not just for Windows RT.
Here's a brief demo video if you want to see it in action but I suggest watching the more detailed one below.
The Acer Iconia Tab is based on an Atom CPU, but not as most people know it. Add some speedy solid-state storage, much improved GPU module and faster memory bus and you get a big step forward from the low-cost builds found in netbooks. I'm not calling it 'desktop capable' but with a little patience, you can get a huge amount of productivity done with it. I've already edited over 50 photos, produced a video and am now writing this blog post with, at last, a great set of creation tools on a lightweight, long-duration tablet. This is the smartbook done correctly. Rich UI, Touch, long battery life, always-on, sensors and store and, praise the Lord, the full internet and web experience. ALL your web-based applications will work with the Acer Iconia W510.
The 10 inch screen tablet is light enough to be usable. I still prefer my 7 inch tablet for lazing on the sofa but rich content obviously has a lot more impact on the bigger, IPS, screen. If my Galaxy Tab died tomorrow, I would not have an immediate need to replace it. Even the apps issue on Windows 8 is slowly being solved because after spending a number of hours testing software from the Windows 8 Store, I'm close to having a satisfactory set of apps. Watch out for posts on Windows 8 apps soon.
The docking keyboard and mouse on the Accer W510 isn't very good unfortunately. As a docking station it only offers one USB2.0 port. That should be 2XUSB, HDMI and audio out but it's not. The keyboard is cramped and low-quality compared to any laptop and any Ultrabook I've tested [My reviews over at Ultrabooknews] although you can get used to it and it's great for a few quick paragraphs of email or blog content. This article over over 1700 words is testament to that. The worst part of it is the mousepad though. Not only is it only single-touch without and scroll areas it's jumpy, unusable. I'm using the touchscreen and cursor keys nearly 100% of the time. [At least there's an option!] When editing a video yesterday (the one above) I had to plug a mouse in to get the required fine-control. The main feature on the keyboard is the battery which adds 100% to the battery life. If you want to watch videos on this (and it will play 1080p 50FPS 30Mbps H.264 in about 25% CPU utilisation) you'll be sitting in front of it for around 12 hours. Not bad for 1.2KG of kit. Every frequent flyer should be considering a CloverTrail tablet right now.
Notes:
It's silent and cool, always!
WiFi quality is quite poor although no worse than many netbooks. It's not WiDi capable either.
NFC is available although I can't get it to work with my Nokia 808.
I've had a few Windows 8 lock-ups which is a little worrying.
Speakers are poor but OK for notifications, YouTube and a little background music.
Micro HDMI out works in extended screen mode
Micro USB port can power a hard drive. Converter cable supplied.
Micro SD card slot worked with my 8GB SDHC card
CrystalMark score is about 50000. HDD-based netbooks score under 25000.
8MP rear cam is OK given enough light. It's certainly better than any laptop cam i've tested in the past.
Build quality is average. There are a couple of creaks which indicate that the product has been built to a price.
Battery in dock takes priority in running the system when connected but does not charge the tablet battery. (That process would be very wasteful as energy loss would be around 20-30%)
Charging cable can be plugged into dock or tablet. When docked, the tablet gets charged at the same time as the dock but the process is very slow.
Average battery drain while writing this article was max 3.5W, min 2.8W. (30% screen brightness, WiFi-on, Chrome, Windows 8 background apps running) which is well over 10hrs of productivity with the dock, possibly 15 but I need to do some more measurements before I give you concrete figures.
Performance is good for Atom, good for a consumer tablet, poor for a laptop. It depends which way you look at it. On one hand, being able to edit 720p videos with a full editor and rendering in real-time is amazing performance. On the other hand, unpacking large ZIP files, editing images and heavyweight browsing is noticeably slower than you expect for a PC. Interestingly, when I got the W510 I reset it and it locked itself into 600Mhz CPU mode. I hadn't realised it until I started running some tests. 2700ms on SunSpider was not what I was expecting. Imagine my relief when I unlocked the CPU. 970ms is more like it. Others have tested down to 700ms so maybe I should close off some of the Windows 8 apps i'm running in the background.
Again, I can't emphasise this enough; When you hit the off button, 'desktop' or traditional Windows is halted (as far as I can tell) but registered and permitted Windows 8 apps can continue. TuneIn radio runs in this state and, get this, uses about 5X less power than an Ultrabook with the screen off. 700mW, and that includes the other background apps that are running. Mail and calendar notifications work, twitter notifications and others. There's a limit to how much CPU an application can take and everything is scheduled. It's a nice bit of work from Microsoft and, please, if you read a Windows 8 review that doesn't address always-on then ignore it because within 2 years this will be standard on all new Windows 8 laptops. Forget powering down. Forget searching for the Windows 8 start/standby feature. Just walk away and forget about ever having to turn a PC off again. Groundbreaking! This feature should, as far as I can understand, be coming to 'Core' with the Haswell SoC in late 2013.
Hardware audio decode, hardware video decode, hardware video encode, NFC and accelerometer are part of the package but I don't see electronic compass or GPS here. GPS would have been nice.
As for GPU 3D performance, watch this space. I'm happy with Windows 8 apps, Fruit Ninja works a treat, but I need to install Steam (try that on your Android, IOS or RT 'post pc' device!) and get testing. We wont see WoW working smoothly but we might see World of Goo and other less demanding graphical apps working out. Personally I'd like to see more focus on Windows 8 games but then again, I'm not a big gamer.
As for productivity apps I don't see any issues with Office running on this. Processing large spreadsheets is going to take 2-3times as long as on a recent laptop but that might be acceptable to some, especially when it means you can take full Office with you in a 600gm tablet package. More testing is needed here.
Disk speeds need a quick mention. All Clovertrail PCs will use eMMC storage, not SATA-based storage. This means there are limits to the speeds you'll see. 75MB/s read speed is that fastest you'll see and that's a lot lower than most hard drives but at smaller block sizes the eMMC storage starts to out-perform HDD. As an example, Cyberlink PowerDirector can take 25 seconds to start on a HDD-based system. it can start in 5 seconds on a good SATA SSD system. On the Acer Iconia W510 it's taking 13 seconds which is acceptable.
Summary:
Clovertrail is a ground-breaking new PC platform. What Intel achieved in their smartphone platform has now been echoed on the desktop and it puts to shame the 'efficient' Ultrabooks they are promoting right now which might explain why you can only buy CloverTrail tablets. If someone was to build an Ultrabook with CloverTrail it would be thinner, lighter, quieter, offer always-on, be cheaper and last a lot longer on battery life. Customers that could accept the 'consumer' performance levels would be well served.
The Acer W510 is a great value example of a CloverTrail product. It's primarily a very usable consumer tablet but has two tricks which make it extremely flexible. Desktop Windows 8 just works as you'd expect (In a demo yesterday I found it difficult to explain to people that Microsoft Office can be installed) and the keyboard/battery dock extends your typing capability from a few lines to a full, 1700+ word article with images and video. Don't expect the highest build quality or the best keyboard but it looks like Acer has a winner on their hands here.
And again, if you're reading a Windows 8 review that doesn't include coverage of background tasks and always-on, please bear in mind that this is one of the most important aspects of Windows 8 to consider for the future.
Note: This is not a full review. Testing was done over a 48hrs period. I'll be addressing gaming, productivity and other aspects of CloverTrail and the W510 over the coming weeks.
Images for ultra mobile PC fans…
More W510 images…