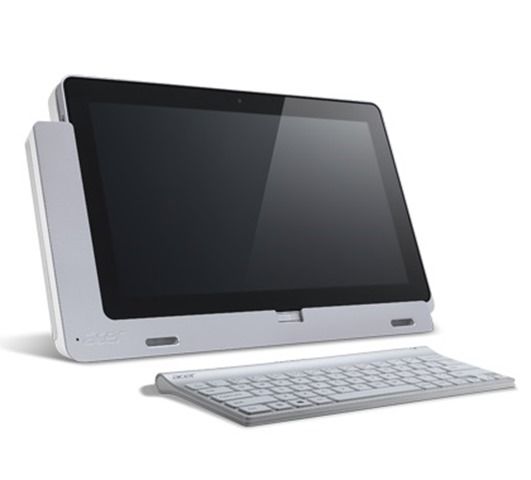 Although there are a number of slider and rotating screen Ultrabooks out there it's the dockable slates that seem to interest the readers here the most. The Samsung XE700 / Smart PC Pro is available in a number of location now but it's the Acer Iconia W700 that get's the first round of reviews. Laptop Magazine and CNet have published their thoughts so make sure you read these to get a feel for weight, battery life, performance and features for this new phase of Window Tablet PCs.
CNet appear quite impressed with the W700 performance, battery and quirky looks. A battery life test using video playback resulted in over 7hrs. Even with the 54Wh battery that's not bad at all, especially as the W700 has a FullHD resolution screen.
Laptop mentions the small icon sizes on desktop mode. It's surprising that Acer didn't set-up large Icon sizes but they have implemented a launcher called Acer Ring. Why they've chosen to do that when Windows 8 home screen does the same is a mystery. Differentiation for differentiations' sake? The Bluetooh (don't forget to carry spare batteries!) keyboard gets a thumbs up for usability. Laptopmag also reports good battery life. Over 6hrs for continuous browsing.
Read more at these sources: Cnet, Laptopmag. Other links will be added to our product database.
Our performance preview of the Surface Pro will also help you to get a feel for this sector and we've always got the tablets listed, with information links, in our database.