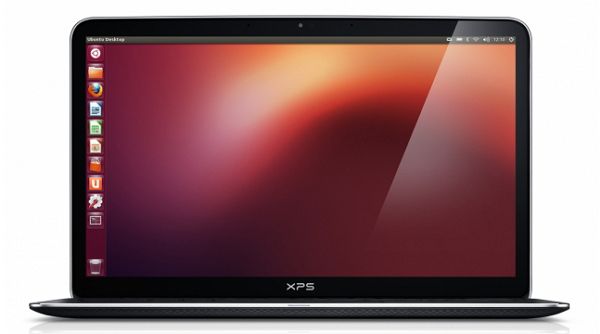 Dell is now offering the XPS 13 Developer Edition Ultrabook with Ubuntu Pre-installed. The release is the culmination of 'Project Sputnik', an initiative to create a fully supported build of Ubuntu for developers that would work with the Dell XPS 13 Ultrabook. The project started back in May when Dell asked the developer community what they wanted in a laptop. The company also passed out some of its Sandy Bridge XPS 13 Ultrabooks to collaborate with the community to port and test drivers and other software. The fruit of Project Sputnik, the XPS 13 Developer Edition, is now available for purchase from Dell.
Dell says the XPS 13 Developer Edition is "focused on speed, mobility and cloud readiness." The unit being sold is the latest version of the XPS 13 (with Ivy Bridge), an upgrade over the Sandy Bridge pilot hardware that went out during Sputnik. The XPS 13 Developer Edition is the same as the Ivy Bridge XPS 13 Ultrabook that Dell is currently selling except it comes pre-installed with Ubuntu and some other goodies for developers. From Dell:
Ubuntu 12.04 LTS loaded onto our sleek, ultramobile Dell XPS 13 laptop.
Ubuntu 12.04 LTS augmented with the necessary hardware drivers and basic tools and utilities that support building, testing and producing applications.
A cloud launcher (beta) that enables "microcloud" creation on your laptop and simulates an at-scale environment; that environment can then be deployed seamlessly to the cloud.
A profile tool (beta) that provides access to a library of profiles, such as Ruby and Android, to quickly set up your development environments and tool chains. Join in and help build out the community library.
Barton George, Director of Marketing for Dell's Web vertical, explains more about the interesting cloud launcher and profile tools included with the unit:
You may notice that Dell is calling this a 'laptop' and not an Ultrabook. While having Windows installed is not an explicit requirement to be considered an Ultrabook by Intel, it is definitely implicit. More likely than not, Dell simply didn't apply to have the XPS 13 Developer Edition called an Ultrabook.
The XPS 13 Developer Edition price is $1,449… which seems a bit steep to us considering that they're using a free OS. Still, the company did spend time making sure that Ubuntu is fully supported, and they're including the tools they've made specifically for developers. The unit is currently only available in the US (and in Canada for large enterprise), though Dell says they're looking to launch internationally as well. Furthermore, the company says they're considering a followup to the XPS 13 Developer Edition — possibly a larger developer laptop.
The XPS 13 Developer Edition is actually the highest-speced XPS 13 Ultrabook that money can buy at the moment. Included is an Ivy Bridge Core i7-3517U, HD 4000 for graphics, 8GB of 1600MHz RAM, and a 256GB SSD. The standard XPS 13 Ultrabook (with Windows 8) can be configured with identical specs except it only goes up to a 128GB SSD. Assuming the units would otherwise be equally priced, going from 128GB to the 256GB of the XPS 13 Developer Edition adds a whopping  $250! The 1366×768 resolution still feels sub-par for a laptop of this price and the ports are still inadequate in our opinion (2x USB 3.0, mini DisplayPort, 3.5mm headset jack).
For the money conscious: you might be best off buying the Windows 8 version and installing Ubuntu and the fully open-sourced Sputnik software yourself! Ars Technica notes:
Dell worked closely with Canonical and the various peripheral manufacturers to ensure that well-written, feature-complete drivers are available for all of the laptop's hardware. Out of the box the laptop will just work. They also have their own PPA if you want to pull down the patches separately, either to reload the laptop or to use on a different machine.
You can buy the Dell XPS 13 Developer Edition here.