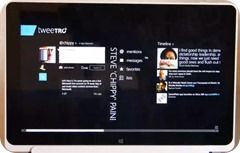 The 20-minute video below might be a little long for the average YouTube video hopper but I'm sure it will have more meaning here where there appear to be quite a number of people joining us via Google searches for W510, ATIV 500T and related terms.
In the video below you'll see start-up times for the Acer Iconia W510 (20 seconds or less,) start-up times for a big set of Windows 8 applications and speed-of-use with Windows 8 apps.
You'll also see a bug rear it's head because there seems to be an issue with the audio which stops working, prevents any videos from playing and requires a reboot to get working again. It might even be the cause of some system lock-ups I've seen too. Note that I haven't made any attempts to look for newer drivers yet.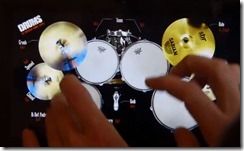 Applications demonstrated, mainly briefly, include:
Windows 8 Mail,
Tweetro+
Internet Explorer
Store
Camera
Sky News
Nextgen Reader
7 Digital
Video
Drums
Fruit Ninja
Skype, which can be used as an always on VOIP application
Amazon
I've been using the Acer Iconia W510 as a desktop PC again today and I must say that for basic browsing, photo editing and text input, it's fine. You do notice that it's slower and I have to agree with anyone that says it's not as productive as a Core-based laptop but I can't see anyone having issues with this when on the road; It's way more productive and flexible  than even something like the ASUS Transformer Android tablet.
Note that I'm using an external 1080p screen and wireless keyboard and mouse here today – the keyboard on the W510 is a little on the small-and-cheap side for all-day working!
Coming soon: Windows 8 Desktop Apps demo. Let us know if there's anything specific you want to see that could also be interesting for our community.